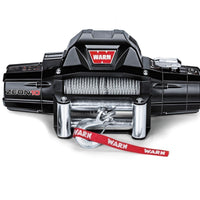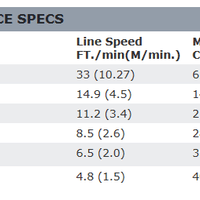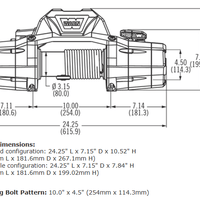 Warn - Zeon 10 Recovery 10,000lb Winch
Description

Specifications

Fitment

Videos
Choose your way to conquer the terrain. The ZEON 10 is tough enough to tackle anything you will, with a look that is advanced, capable and strong. Muck busting sealing keeps out everything but the good times. Add a hyper durable cast aluminum housing, satin black finish, and 10,000 Pounds. Single line pulling capacity and, well, you've got a workhorse unit you can trust for years to come.
Convertible Control Pack Can Be Attached To The Winch Or Remotely Mounted, Allowing For Various Winch Mounting Options And Looks
New Design Planetary Gear Train And Series Wound Motor Deliver Fast, Quiet, And Reliable Pulling Power
Satin Black Powder Coated Finish With Stainless Steel Fasteners And Clutch Lever Looks Great And Inhibits Corrosion
Improved Winch Sealing To Keep The Elements Out
Large Diameter Winch Drum Reduces Rope Wear, Is Lightweight, And Has An Integrated Rope Anchor For Easy Rope Installation
Includes 80 Foot Of 3/8 Inch Galvanized Steel Wire Rope
10,000 Pounds Single Line Pulling Capacity
Limited Lifetime Warranty for Mechanical Components. Limited Seven (7) year warranty for Electrical Components.
The next generation of winches is here: WARN ZEON. With a modern rugged design, upgraded internal components, and increased performance and durability, ZEON is a new name from the most trusted name in winches. With a bold look and power to match, the ZEON is like nothing you've ever seen before. Unique exterior styling and symmetrical design give this winch a look that is advanced, capable, and strong. New-design planetary geartrain and series-wound motor deliver fast, quiet, and reliable pulling power. Satin-black powder-coated finish with stainless steel fasteners and clutch lever looks great and inhibits corrosion. Convertible control pack can be attached to the winch or remotely mounted, allowing for various winch mounting options and looks (Relocation kit required and sold separately). Large diameter, aluminum winch drum reduces rope wear, is light weight, and has an integrated rope anchor for easy rope installation. IP68 rated for improved winch sealing to keep the elements out. Backed by the WARN Limited Lifetime Warranty.
| | |
| --- | --- |
| TYPE | Electric |
| MOUNT TYPE | Vehicle Mounted |
| RECOMMENDED USE | Vehicle Recovery |
| VOLTAGE | 12 Volt |
| ELECTRICAL CONTROL TYPE | Contactors |
| MOTOR TYPE | Series Wound |
| THERMAL SHUTOFF | No |
| DRIVE GEAR TYPE | Planetary |
| GEAR REDUCTION RATIO | 216:1 |
| FREE SPOOLING | Yes |
| BRAKE TYPE | Mechanical Cone |
| LINE DIAMETER (IN) | 3/8 Inch |
| LINE LENGTH (FT) | 80 Feet |
| LINE MATERIAL | Steel |
| FAIRLEAD TYPE | Roller |
| CONFORMS TO J706 STANDARDS | No |
| REMOTE TYPE | Handheld Remote Switch |
| MOUNTING HOLE QUANTITY | 4 |
| OPERATION TYPE | Automatic |
| MOUNTING PATTERN LENGTH (IN) | 10 Inch |
| MOUNTING PATTERN WIDTH (IN) | 4-1/2 Inch |
| INCLUDES MOUNTING HARDWARE | No |
| COLOR | Black |
| MAX LINE PULL/ LINE SPEED | 10000 Pound/ 4.8 Feet Per Second |
| MAX AMP DRAW/ LINE PULL | 409 Amp Draw/ 10000 Pound |
2007-2013 CHEVROLET AVALANCHE
2002-2006 CHEVROLET AVALANCHE 1500
1999-2020 CHEVROLET SILVERADO 1500
2007-2007 CHEVROLET SILVERADO 1500 CLASSIC
2003-2006 CHEVROLET SILVERADO 1500 HD
2007-2007 CHEVROLET SILVERADO 1500 HD CLASSIC
2019-2019 CHEVROLET SILVERADO 1500 LD- OLD MODEL
2019-2019 CHEVROLET SILVERADO 1500- NEW MODEL
2003-2004 CHEVROLET SILVERADO 2500
2001-2019 CHEVROLET SILVERADO 2500 HD
2007-2007 CHEVROLET SILVERADO 2500 HD CLASSIC
2001-2006 CHEVROLET SILVERADO 3500
2007-2007 CHEVROLET SILVERADO 3500 CLASSIC
2007-2019 CHEVROLET SILVERADO 3500 HD
2000-2014 CHEVROLET SUBURBAN 1500
2007-2013 CHEVROLET SUBURBAN 2500
2000-2014 CHEVROLET TAHOE
1994-2010 DODGE RAM 1500
1994-2010 DODGE RAM 2500
1994-2010 DODGE RAM 3500
2008-2010 DODGE RAM 4500
2008-2010 DODGE RAM 5500
1992-1996 FORD BRONCO
2000-2004 FORD EXCURSION
1999-2002 FORD EXPEDITION
1992-1997 FORD F SUPER DUTY
1992-2020 FORD F-150
2004-2004 FORD F-150 HERITAGE
1992-1999 FORD F-250
1997-1997 FORD F-250 HD
1999-2019 FORD F-250 SUPER DUTY
1992-1997 FORD F-350
1999-2019 FORD F-350 SUPER DUTY
1999-2019 FORD F-450 SUPER DUTY
1999-2019 FORD F-550 SUPER DUTY
2019-2020 FORD RANGER
1999-2018 GMC SIERRA 1500
2007-2007 GMC SIERRA 1500 CLASSIC
2001-2002 GMC SIERRA 1500 HD
2019-2019 GMC SIERRA 1500 LIMITED- OLD MODEL
1999-2002 GMC SIERRA 2500
2003-2019 GMC SIERRA 2500 HD
2007-2007 GMC SIERRA 2500 HD CLASSIC
2003-2006 GMC SIERRA 3500
2007-2007 GMC SIERRA 3500 CLASSIC
2007-2019 GMC SIERRA 3500 HD
2000-2006 GMC YUKON
2000-2006 GMC YUKON XL 1500
2000-2006 GMC YUKON XL 2500
1959-1966 JEEP CJ3
1959-1983 JEEP CJ5
1966-1968 JEEP CJ5A
1959-1975 JEEP CJ6
1966-1968 JEEP CJ6A
1976-1986 JEEP CJ7
2020-2020 JEEP GLADIATOR JT
1981-1985 JEEP SCRAMBLER
2007-2018 JEEP WRANGLER JK
2018-2020 JEEP WRANGLER JL
1997-2006 JEEP WRANGLER TJ
1987-1995 JEEP WRANGLER YJ
2011-2018 RAM 1500
2019-2020 RAM 1500 CLASSIC- OLD MODEL
2011-2019 RAM 2500
2011-2019 RAM 3500
2011-2018 RAM 4500
2011-2018 RAM 5500
2014-2020 TOYOTA 4RUNNER
1993-1998 TOYOTA T100
1995-2021 TOYOTA TACOMA
2000-2013 TOYOTA TUNDRA