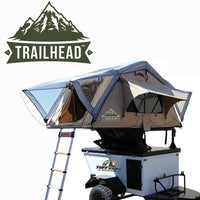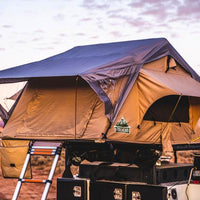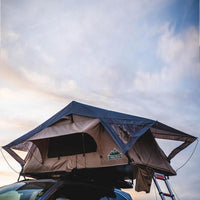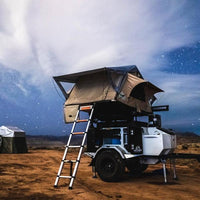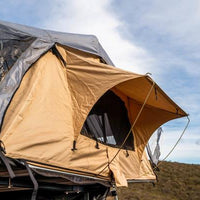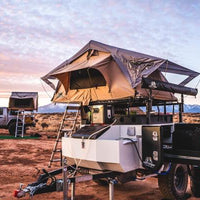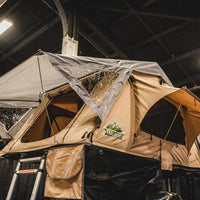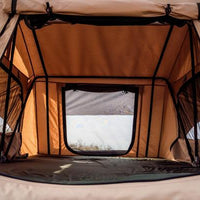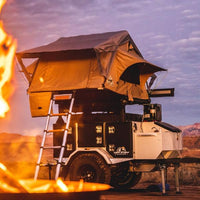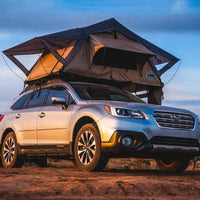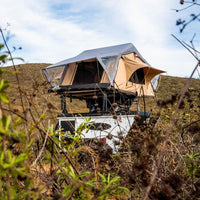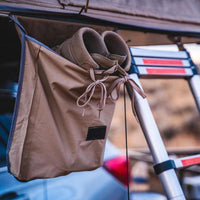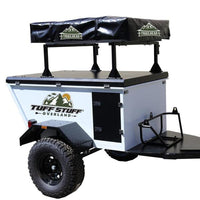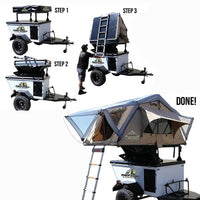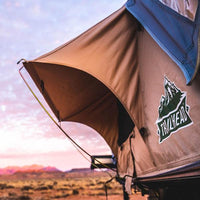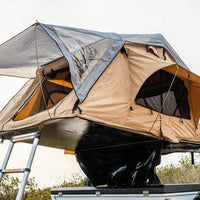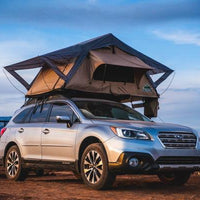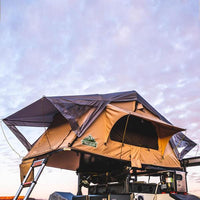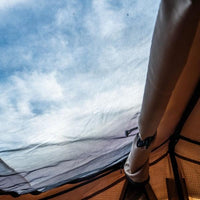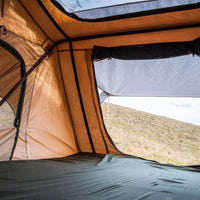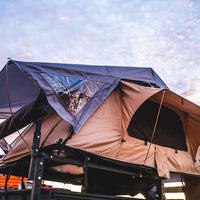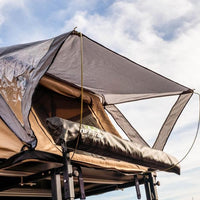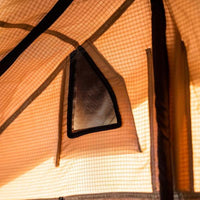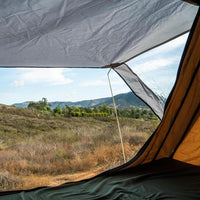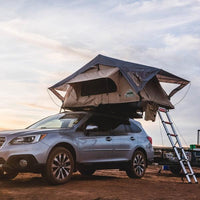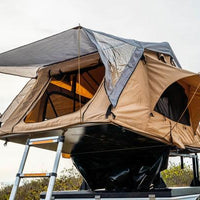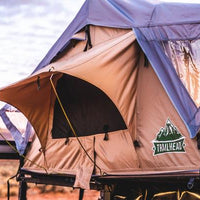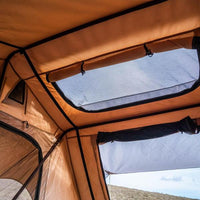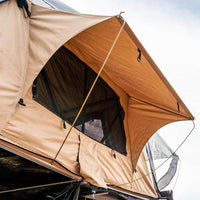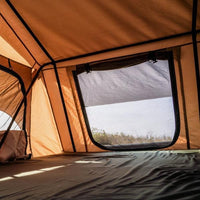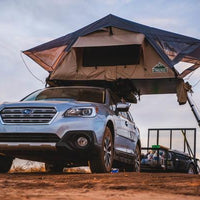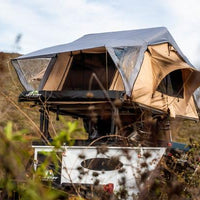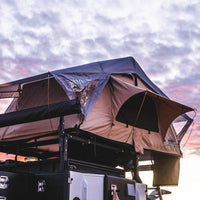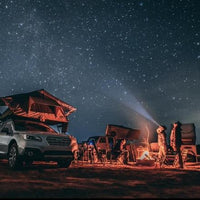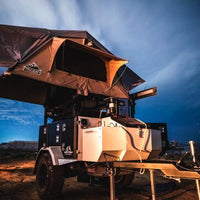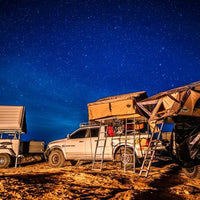 Tuff Stuff - TRAILHEAD Roof Top Tent - 2 Person
Description

Specifications

Instructions

Delivery
Click here for our Shipping Policy for Lead Times
The TRAILHEAD™ roof top tent is designed to get you off the ground and up into the air for the next big outdoor camping adventure. This quick and easy one-person setup allows you to sleep in safety and comfort without worrying about poles, pegs, and the uncomfortable hard and cold ground.

The roof top tent quickly and easily bolts onto any secure roof rack and where you park is where you camp. Forget the days when you had to unpack all of your tent gear and equipment then set it all up. This roof top tent unpacks in about 2-3 minutes and you should be good to go in about 5 minutes or less.

Do not let the price fool you this roof top tent is packed with quality features. It has 600D Polyester Oxford, PU coated material waterproof up to 3000mm and UV 50 + rated. The rainfly is 420D polyester Oxford PU Coated. Quality 5/8" (16mm) Aluminum poles and a 1.5" Foam (density #30) including a cotton top cover and waterproof Oxford bottom. The best YKK zippers available are used on all parts of the tent to make sure this tent opens and closes for you with no issues. A massive 1000D PVC waterproof driving cover is also included to protect this amazing tent.

Secure Comfort: Sleep securely above the ground. Holds up to 800LBS in weight. Multiple mosquito and bug proof windows/moon roof allows you to get the breeze and view without worrying about the bugs.
With our Trailhead™ tents' 600D Polyester Oxford, we have rated it as a 3 season tent due to the material being more breathable, compared to our all-season Ranger, Delta & Elite tents which use a 280G Cotton/Poly material which retains heat much better in the cold.

Easy to set up and pack away: One-person setup and breakdown. We have designed this tent to be quick and easy to set up and be in bed under 10 minutes. The breakdown is just as easy and compact so that you are back on your adventure right away.

Waterproof, Bug-free tent: Always stay dry and content in this secure tent. With the YKK zippers on every part of this tent, you can quickly zip up the bug screens to allow the natural breeze in and keep the bugs out.

Made to last: Do not let the price fool you we have made this roof top tent to last. Using the best quality materials, this product will keep you adventuring for many years.
Mounting hardware & brackets for installation (fits up to 3.25" cross bars)
Dimensions Opened: 56" X 95" X 50"
Dimensions Closed: 56" X 48" X 13"
Sleeping pad: 55" X 92.5" X 1.5"
Max weight capacity: 800Lbs
Weight: 110Lbs
Tent fabric: 600D polyester Oxford, PU coated, waterproof rating to 3000MM, UV50+ Protected
3 Season Tent
Rainfly: 420D polyester Oxford, PU coated, waterproof rating to 3000MM, UV50+ Protected
Doors and Windows: Solid panel & insect-free breathable mesh
Ladder: 7.5' Telescoping (1 button operation)
Upper frame: 5/8" (16MM) Aluminum poles
Mattress: 1.5" foam (density #30) with Cotton top cover/Waterproof oxford bottom
Installation hardware: T-304 stainless steel nuts/bolts/3mm plates, fits up to a 3" wide crossbar
Tent Floor: Aluminum honeycomb (for weight reduction)
Zippers: YKK
Shoe Bag: Included w/ bottom mesh to allow water/sand to fall out
Driving Cover: 1000D PVC Waterproof
Frame: Black aluminum
INSTALLATION: Your vehicle must have crossbars (left to right) that can accept 150+ Lbs, and your crossbars should be at least 40" apart for proper support.

Pickup trucks: We strongly recommend the use of a truck bed rack. We do not recommend the Trailhead tents to be placed on the roof of a truck.
Freight/Delivery times are 3-5 business days from our warehouse to the Destination Terminal, Final Delivery is by appointment (this is why we require a phone number) and varies based on the distance from the Destination Terminal and the Final Delivery address (your shipping address).
Do NOT miss your delivery once scheduled or you will be charged for rescheduling. We get charged and will pass the charge on to you.
Our tents ship via LTL and will ship separately from any other items in your cart. This means, if you also ordered an awning it will ship via Ground. This is why the phone number is so important. The LTL Freight Carrier will contact you via phone to work out a delivery time. No number no delivery. Missed travel time.

All tents INCLUDE shipping only to the lower 48 states. Tents must be sent via freight truck (not UPS or Fed-Ex Ground) so please arrange an ideal location with easy access/and or forklift services to ensure no damage occurs in transit. A forklift is not required but definitely preferred.

For residential deliveries: The courier will only deliver to the sidewalk, driveway, or garage. A valid telephone number must be provided at the time of purchase. This needs to be a number that you can be reached at in order for the delivery driver to schedule a delivery time. Failure to provide a valid telephone number will result in your tent not being shipped until we can make contact with you.

If you cannot arrange to be available or fail to respond to the carrier, your tent will be returned to our warehouse and the return freight charges will be applied to your credit card.
Lastly, if you see damage to the tent packaging take pictures immediately. Refuse delivery. If you do not see any outer damage but find concealed damage once you open the packaging, stop, take pictures, and report the damage to use immediately. All damage must be reported within 24 hrs of receiving your tent. Make sure to take pictures of the packaging, the crate, the tent, anything that will provide context for the damage.