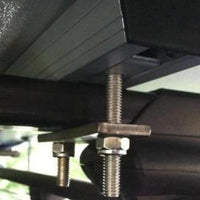 Tuff Stuff - Ranger Roof Top Tent - 3 Person - 65"
Description

Specifications

Installation

Delivery
Click here for our Shipping Policy for Lead Times
The Tuff Stuff® Ranger 65 inch roof top tent is exactly what you asked for... more room! We've added an additional 10" to the original Ranger footprint.  More room for you and your family!
All bedding can be stored inside to free up valuable storage in the vehicle and includes a thick foam sleeping mat pre-installed inside. The sleeping area is large enough for 2-3 full-sized adults and a child.
The retractable ladder can also be folded away for increased space inside of the annex room.
Includes
Mounting hardware & brackets for installation (fits up to 3.25" cross bars)
Sliding ladder, 1 qty
Rainfly
PVC Cover
2.75-inch mattress

Shoe bag that slides into the tents railing for outdoor storage
Under tent storage hammock that can be mounted inside or outside of the tent
Installation hardware and necessary tools
Optional
Sleeping Capacity: 2-3 People
Open dimensions L/W/H: 65x96x52 inches

Open dimensions w/Overhang L/W/H: 65x132x52
Closed dimensions L/W/H: 65x48x15 inches
Mattress L/W/H: 65x92.5x 2.75

Weight: 164 Lbs
Weight Capacity: 800 Lbs
Tent Material: 280 G Poly/Cotton Rip-Stop
Rainfly Material: 420D Polyester/Oxford PU coated
Floor: Aluminum & fiberglass, 1" thickness
Zippers: YKK with custom para-cord pulls (reduces annoying dinging in wind)

Windows: 3 window openings w/ mesh screens & window rods

Tubular Frame: Aluminum, 1" diameter
Installation brackets fit crossbars up to 3.25" wide
Mounting rails: 32.5" apart
Driving Cover: Black, 1000D PVC waterproof
Ladder: Sliding (included)
Mounting hardware: Stainless steel (Included)
Install time is approx 1-2 hours with 2 people. Detailed instructions included.
Annex room zips on after the tent has been installed.
All necessary spikes included.
All necessary hardware included (even the tools) to mount to most all roof racks (using the custom extruded aluminum channel system).
The ideal mounting height for the tent would be 76″-78″ above the ground to allow for the ladder to extend and annex to hang to the ground.
Tent mounts slide In the lower mounting rail to accommodate any crossbars (left to right on the vehicle) with a spread of up to 52". We recommend your crossbars (left to right) are no more than 45" apart for optimal support. The included lower brackets will accept up to a 3.25" wide crossbar. Max width of your crossbar should be 3.25" or less so there are no modifications needed to use the provided brackets. If your crossbars are wider than 3.25" you will need to purchase brackets from another source or have them manufactured for you.
Installation Notes:
Your vehicle must have crossbars (left to right) that can accept 150+ lbs, and your crossbars should be at least 32.5" apart for proper support.
Pickup trucks: We strongly recommend the use of a

 

truck bed rack. We do not recommend the Ranger tents be placed directly on the roof of a truck.
If fabricating your own mounting rails, wait until you receive your tent. It's the rare occasion that someone guesses the measurements right.
Freight/Delivery times are 3-5 business days from our warehouse to the Destination Terminal, Final Delivery is by appointment (this is why we require a phone number) and varies based on the distance from the Destination Terminal and the Final Delivery address (your shipping address).
Do NOT miss your delivery once scheduled or you will be charged for rescheduling. We get charged and will pass the charge on to you.
Our tents ship via LTL and will ship separately from any other items in your cart. This means, if you also ordered an awning it will ship via Ground. This is why the phone number is so important. The LTL Freight Carrier will contact you via phone to work out a delivery time. No number no delivery. Missed travel time.

All tents INCLUDE shipping only to the lower 48 states. Tents must be sent via freight truck (not UPS or Fed-Ex Ground) so please arrange an ideal location with easy access/and or forklift services to ensure no damage occurs in transit. A forklift is not required but definitely preferred.

For residential deliveries: The courier will only deliver to the sidewalk, driveway, or garage. A valid telephone number must be provided at the time of purchase. This needs to be a number that you can be reached at in order for the delivery driver to schedule a delivery time. Failure to provide a valid telephone number will result in your tent not being shipped until we can make contact with you.

If you cannot arrange to be available or fail to respond to the carrier, your tent will be returned to our warehouse and the return freight charges will be applied to your credit card.
Lastly, if you see damage to the tent packaging take pictures immediately. Refuse delivery. If you do not see any outer damage but find concealed damage once you open the packaging, stop, take pictures, and report the damage to use immediately. All damage must be reported within 24 hrs of receiving your tent. Make sure to take pictures of the packaging, the crate, the tent, anything that will provide context for the damage.