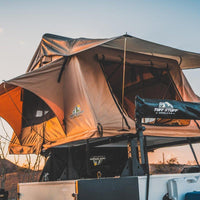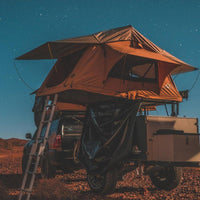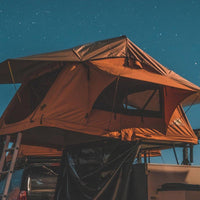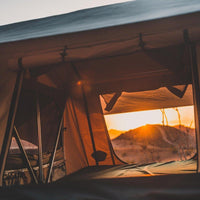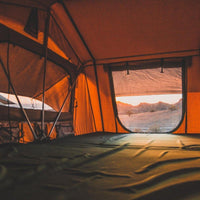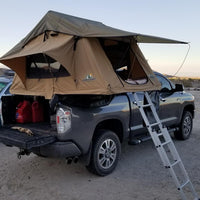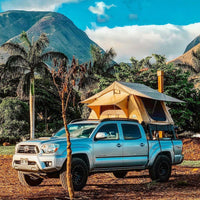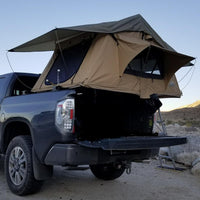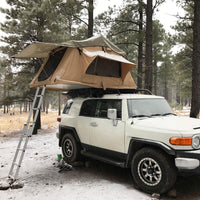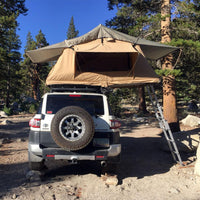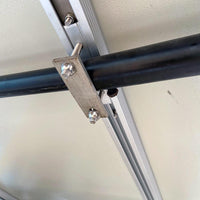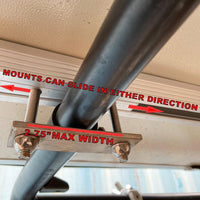 Tuff Stuff - Delta Overland Roof Top Tent - 2 Person
Description

Specifications

Instruction Guide

Video

Delivery
Click here for our Shipping Policy for Lead Times
The Tuff Stuff® ''Delta'' Roof top tent has been designed exactly the same as the Ranger overland tent, but without the additional overhang over the ladder area. The Delta rooftop tent also excludes the annex room (sold separately) and weighs in at approx. 20 lbs less.

By eliminating the entry overhang & annex room, this will allow the tent to be mounted at even lower heights (waist to chest level), without having to duck under the overhang. By having a front entry, this makes the Delta Rooftop Tent best suited for mounting to pickup truck beds, 4X4 travel trailers or smaller SUV/Crossover vehicles where the roof rack is below head height.

The Delta annex room (sold separately) is available to create a lower privacy room for changing, storage, or added real estate for housing the kids or dogs throughout the night.

WILL THIS FIT MY VEHICLE?:

Great question...
Rooftop tents are NOT VEHICLE SPECIFIC. No rooftop tent is compatible with any one type of vehicle. It is up to you to provide a stable roof rack that can support the weight of the tent on top, in addition to the people inside.
Heavy-duty crossbars (left to right) are necessary to support the weight of the tent, and we recommend checking your factory rail system (front to back) to confirm it will hold the weight of your tent and the people inside. Max width of your crossbar should be 3.25" or less so there are no modifications needed to use the provided brackets (shown in photos)

INSTALLATION: Your vehicle must have crossbars (left to right) that can accept 150+ Lbs, and your crossbars should be at least 40" apart for proper support.

Pickup trucks: We strongly recommend the use of a truck bed rack. We do not recommend the Delta tents to be placed on the roof of a truck.
Weight
• 140 lbs

Dimensions L/W/H
• Folded Closed
o 48 x 56 x 14 inches
• Opened
o 96 x 56 x 52 inches

Mattress Size
• 96 x 56 x 2.75 inches

Annex Room Not Included
• Optional Not Included w/ Delta Tent
• Tuff Stuff® Overland Roof Top Tent Annex Room

Base Frame
• Aluminum 1 inch diameter
• Aluminum & fiberglass Sheets

Tubular Frame
• 1" diameter

Tent Fabric Material
• Manufactured from high quality waterproof 280G polyester/cotton Rip-Stop fabric (the best water-shedding material on the market)
• Waterproof Polyurethane coating for maximum water resistance, Breathable, UV & Mold Resistant

Rainfly
• 420D Polyester/Oxford material
• Coated with polyurethane for maximum rain protection
• Breathable UV & Mold Resistant
• Sheds water instantly
• Eliminates 50% of overhead light

Driving Cover
• Heavy-duty YKK zipper
• Black, 1000D PVC waterproof

FEATURES & BENEFITS:
• Manufactured from high-quality polyester/cotton windproof fabric
• Heavy-duty YKK zipper
• Includes a polyester rain fly with the best water shedding ability on the market
• Upper air vents for warm air discharge
• 3 "NO-SEE-UM MESH" screened windows with awnings
• High-density foam mattress with removable & washable cover
• Pull out overhead veranda
• Unfolds off of either side of the vehicle (Side or Rear)
• All aluminum frame, ladder, and roof rack mounts
• All necessary hardware for complete installation (including tools)
• Heavy-duty PVC driving cover
• FREE PVC shoe storage bag
Freight/Delivery times are 3-5 business days from our warehouse to the Destination Terminal, Final Delivery is by appointment (this is why we require a phone number) and varies based on the distance from the Destination Terminal and the Final Delivery address (your shipping address).
Do NOT miss your delivery once scheduled or you will be charged for rescheduling. We get charged and will pass the charge on to you.
Our tents ship via LTL and will ship separately from any other items in your cart. This means, if you also ordered an awning it will ship via Ground. This is why the phone number is so important. The LTL Freight Carrier will contact you via phone to work out a delivery time. No number no delivery. Missed travel time.

All tents INCLUDE shipping only to the lower 48 states. Tents must be sent via freight truck (not UPS or Fed-Ex Ground) so please arrange an ideal location with easy access/and or forklift services to ensure no damage occurs in transit. A forklift is not required but definitely preferred.

For residential deliveries: The courier will only deliver to the sidewalk, driveway, or garage. A valid telephone number must be provided at the time of purchase. This needs to be a number that you can be reached at in order for the delivery driver to schedule a delivery time. Failure to provide a valid telephone number will result in your tent not being shipped until we can make contact with you.

If you cannot arrange to be available or fail to respond to the carrier, your tent will be returned to our warehouse and the return freight charges will be applied to your credit card.
Lastly, if you see damage to the tent packaging take pictures immediately. Refuse delivery. If you do not see any outer damage but find concealed damage once you open the packaging, stop, take pictures, and report the damage to use immediately. All damage must be reported within 24 hrs of receiving your tent. Make sure to take pictures of the packaging, the crate, the tent, anything that will provide context for the damage.