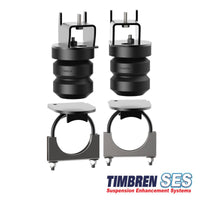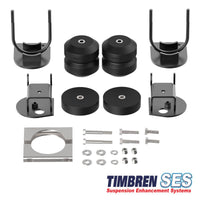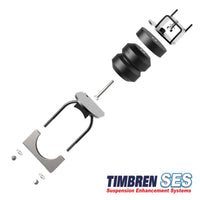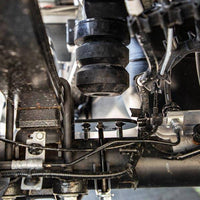 Timbren - FR1504E - SES Suspension Enhancement System - Rear Kit | 2015-2021 Ford F-150
Description

Instructions

SES FAQ
Each laser cut piece of steel is precision bent and powder-coated to ensure a quality fit. We've engineered our hollow rubber springs to deliver a progressive spring rate. In other words, the more weight that pushes down on the rubber springs the harder they work to prevent rear end sag. Whether you're pulling a trailer or carrying a heavy load in the bed of your truck, our hollow rubber springs adjust automatically to keep the vehicle level at all times.

This SES Suspension Upgrade replaces the jounce stop on the frame. Its unique design ensures superb ride quality – loaded or unloaded. (There should be a ½" to 1 ½" gap between rubber spring and frame to ensure unloaded ride quality.) Unlike other auxiliary spring systems, the SES Suspension Upgrade guarantees the best of both worlds.

FR1504E replaces the bumpstops on the rear suspension of the 2015-2021 Ford F-150 2WD and 4WD pickup truck models.

This kit is rated at 6000 lbs capacity. Even though you're increasing the spring rate by adding this upgrade, this does not increase the GVWR (Gross Vehicle Weight Rating). Please make sure that the load does not exceed the GVWR set by the manufacturer.


Features:

Eliminate Vehicle Squatting & Sagging
Cushion Road Shocks
Improve Handling
Satisfaction Guarantee
Lifetime Warranty
Specs:

Rated for 6000lbs
Kit height without 1" spacer = 7.00"
Kit height with 1" spacer = 8.00"
What's Included In The Box:

2x Aeon® hollow rubber springs
2x 1" rubber spacers
2x Steel mounting brackets
2x Steel axle mounting bracket
All necessary hardware
Compatible Vehicles
Year Make Model Submodel:

2022 FORD F-150 4WD
2022 FORD F-150 2WD
2021 FORD F-150 4WD
2021 FORD F-150 2WD
2020 FORD F-150 4WD
2020 FORD F-150 2WD
2019 FORD F-150 4WD
2019 FORD F-150 2WD
2018 FORD F-150 4WD
2018 FORD F-150 2WD
2017 FORD F-150 4WD
2017 FORD F-150 2WD
2016 FORD F-150 4WD
2016 FORD F-150 2WD
2015 FORD F-150 4WD
2015 FORD F-150 2WD
I installed a rear kit on my pickup truck and its almost touching the axle. The installation instructions indicate that I need a 1" gap. What should I do?
Remove the rubber spacer supplied in the assembly. If you have already done this or if there is no spacer in the kit then take the vehicle out for a test drive. Often with a vehicle having a partial load, or a vehicle having an older suspension, the rubber spring may be in contact with the axle with no adverse ride quality. If ride quality is poor, contact Customer Service.

I installed a rear kit on my pickup truck and there is more than 3 inches of gap between the rubber spring and the axle. Is this ok?
Ideally, you want to adjust the rubber spring assembly to a gap of about 1 inch. In most cases this can be done with a spacer included in the kit. If you have already installed everything included with the kit, and you still have too much gap, contact Customer Service.

The capacity rating of the Timbren SES kit seems awfully high. I am sure that I do not need that much capacity for my application. What do you recommend?
The real question you seem to be asking is Will this give me a rough ride? The products progressive spring rate provides superb ride quality with any load. Also when cornering, swerving or in high wind situations, the improved stability offers great performance and peace of mind.

I'm experiencing a rough ride when my vehicle is unloaded. Can this be fixed?
If you have installed the Timbren SES (Suspension Enhancement System) and find that the vehicle ride quality is poor when empty, measure the gap between the rubber spring and the axle. (See Question and Answer #1 for further details and solutions.)

The rubber spring is touching the axle all the time. Will that hurt the axle?
Not at all. Primarily, the total weight of the vehicle normally contacts the axle at a point under the leaf springs. The rubber spring, however, contacts the axle at a secondary point of contact. By adding a secondary point of contact we are reducing the stress at the original point and are spreading out the load to 4 points of contact on the axles instead of 2.

Furthermore, the progressive spring rate provides a soft uptake of the load rather than the sudden stop of a solid bump stop, providing a good ride with reduced stress.

I have a 1985 motorhome with a badly sagging rear suspension. Will Timbren's SES (suspension enhancement system) help?
Timbren's Suspension Enhancement System will certainly help, but our systems are designed to work in conjunction with a suspension that is in good condition. We recommend that the motorhome be inspected by a suspension specialist, to ensure the suspension is in good condition, prior to installing a Timbren system.

Can I haul more weight on my truck if I install Timbren's SES kit?
You cannot exceed the manufacturers axle rating or GVW rating of the vehicle. A Timbren suspension enhancement system will greatly enhance the performance of a heavily-loaded vehicle by adding to the spring rate. You can expect reduced sag, and improved roll stability.

How does Timbren's product compare to an air system? What are the advantages?
Here are 9 ways to compare Timbren's SES to an Air Ride system:


Ride Quality: SES upgrades deliver a softer ride empty and loaded especially with extra-heavy loads
Stability: SES upgrades eliminate roll and sway even with the heaviest loads
Reliability: SES upgrades are made to last they will never start leaking air because there is no compressed air.
Ease of use: SES upgrades require zero maintenance.
Ease of installation: SES upgrades take less than an hour to install
Price: The installed price of an SES upgrade is about 1/2 the installed price of an air system
Warranty: SES upgrades come with two of the best warranties in the industry
Lifetime warranty
Customer Satisfaction Guarantee