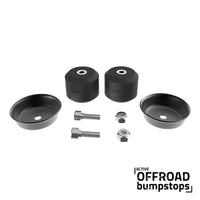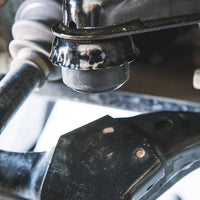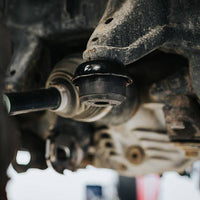 Timbren - ABSTOF - Active Off-Road Bumpstops
Description

Instructions

Videos
The Active Off-Road Bumpstops offer off-road enthusiasts greater control over their vehicles' suspension travel. Using progressive-rate springs means that instead of a hard stop at the end of axle travel the axle energy will be absorbed when bottoming-out producing smooth, predictable and quiet axle engagement and disengagement.
Unlike the OEM bumpstops, Timbren uses superior natural rubber compound ensuring the Active Off-Road Bumpstops will continue to operate even after a lifetime of off-road abuse. Similar to our Timbren SES line, Active Off-Road Bumpstops carry a lifetime warranty and a satisfaction guarantee.
The ABSTOF replaces the front bumpstops on the 2000-2021 Toyota Tundra, the 2005-2021 Toyota Tacoma, the 2007-2014 FJ Cruiser, the 1990-2021 4Runner, Landcruiser 100 & 200 Series, Landcruiser 78/79 Series and Lexus GX460, GX470, LX470, and LX570. Install a bumpstop kit and experience the difference.
This kit is rated for 1000 lbs and has a bump-load capacity of 1800 lbs.
Features
Maximize Axle Travel
Smooth Axle Engagement And Disengagement
Enhance Suspension Performance
Progressive Spring Rate
Absorbs Energy And Cushions Road Shocks
Stronger Than OEM Bumpstops
Easy Installation
Limited Lifetime Warranty