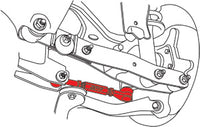 SPC - Adjustable Rear Toe Arm - 67655
The Subaru Adjustable Rear Toe EZ Arm provides maximum toe change required due to camber changes. The toe arm incorporates an integrated OE style ball joint and is easily adjusted for positive or negative toe.
Rear Adjustment Range: Toe ±3°
Installation Time: .5 hr / side
Required: 1 per wheel
Specialty Products Company® (SPC) is the world leader in the development, manufacturing, and sales of wheel alignment parts. Branded Specialty Products for the traditional aftermarket and OE service divisions and SPC Performance® for the off-road, track, and enthusiast markets, SPC strives to offer wheel alignment solutions for every model and year of vehicle on the road.