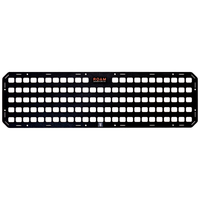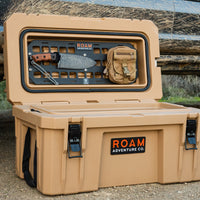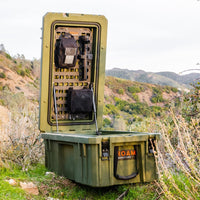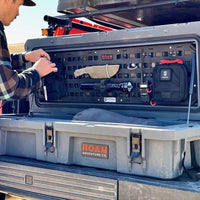 Roam Adventure Co - 95L Rugged Case Molle Panel
Description

Specifications
The ROAM Rugged Case Molle Panel Insert was created with organization in mind. Crafted around a rigid and durable design, the Rugged Case Molle Panel Insert provides a consistent and completely customizable mounting surface, ensuring your gear is readily accessible and interchangeable to meet your needs. Each Molle Panel Insert can be installed on our new 52L, 82L, 95L, 105L, and 160L cases with threaded inserts installed and comes with all required hardware.
*Molle Panels currently are only able to be installed on new versions of ROAM Rugged Cases containing pre installed threaded inserts

Features:

Pre-drilled holes to line up with mounting points in lid of ROAM Rugged Case
Rigid Panel prevents sagging
Attach MOLLE style pouches to organize your gear
Customize with Adhesive Backed Loop to accept Velcro Hook Pouches
1" slots for attaching 1" Webbing Mounting Straps and Handles
| | |
| --- | --- |
| Fitment Size: | 95L |
| Dimensions: | 40" x 12" x 1/4"  |
| Weight: | 4 lbs |
| Warranty: | 3 year manufacturer/craftsmanship warranty |
ROAM is an outfitter of adventure equipment that strives to foster the curiosity and community that come from exploring the outdoors. Their goal is to offer high quality products at great prices and never cut corners. They vow to maintain the highest standard of customer service, going above and beyond to ensure every customer is proud to be a part of the ROAM family.