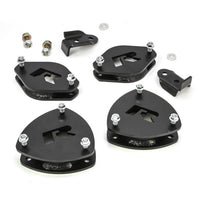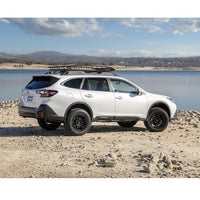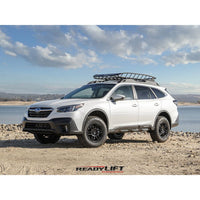 ReadyLIFT - 2.0' SST Lift Kit - Subaru Outback 2020-2021
Description

Tire Fitment

Components
2020-2021 Subaru Outback 2" SST Lift Kit
2.0" Front/ 1.5" Rear
Easy bolt-on installation
Offset spacer design for correct caster/camber.
Allows for 245/65-17 with no rub 
Generates significant amount of ground clearance at the rockers.
Maintains the functional integrity of Subaru Eyesight and other new safety features. 
New 2020-2021 Subaru Outback owners have asked and ReadyLIFT delivers. We now offer a great lift solution for all-new Subaru Outback that utilizes our time-tested lift engineering technology from our truck and Jeep lift kits, ReadyLIFT engineers have developed a 2020 Outback-specific lift kit that will raise the front of your new Subie 2 inches front and rear. This lift combination creates an exceptional improved stance that when combined with up to a 245/65-17 tire, results in 12"+ of ground clearance at the rockers. This kit is completely bolt-on and requires no modifications. Installs in half the time of other kits and our offset spacer design retains the factory camber/caster for ideal alignment.
The 69-9020 SST lift kit also includes front sway bar brackets to relocate the front end links back to the factory angles on the strut.

This kit will allow you to keep the factory ride while allowing for up to a 245/65-17 tire on a 17x8 wheel with +38 offset. 
Maintains the functional integrity of Subaru Eyesight and other new safety features.
Allows for up to a 245/65-17 tire on a 17x8 wheel with +38 offset

When lifting a vehicle and installing aftermarket wheels and tires, a tire manufacturer's construction and material quality can alter vehicle ride quality. When increasing a vehicle wheel and tire size, most larger aftermarket truck and SUV tires are 8-ply (or more) E tires compared to typical OEM 6-ply C tires. This more rigid sidewall construction increases the perception of suspension stiffness often described as ride harshness. The ride, handling, traction, noise, fuel economy, and wear differences between All-Season, All-Terrain, Mud-Terrain, or Trail-Terrain type tires can be significant. Please take into account tire and wheel choice will generally have a meaningful impact on the ride & handling experience.
Two fabricated steel 2" lift front strut spacers
Two fabricated steel 1.5" lift rear strut spacers
Front sway bar bracket with hardware
ReadyLIFT® Suspension Inc. was founded in 2006 on the principals of developing a line of economical yet innovative suspension leveling products that would allow Truck and SUV owners to be able to "level" their vehicle in order to install Plus-size wheels and tires.   ReadyLIFT realized that there was a huge consumer market that didn't want a big lift kit that would compromise fuel economy along with the factory ride and handling.   The original ReadyLIFT line of suspension products was developed to provide consumers with a cost-effective alternative for their needs, essentially designing the exact product they were looking for – clearance for bigger wheels and tires, an improved 'leveled' stance, and that "factory" ride & handling.