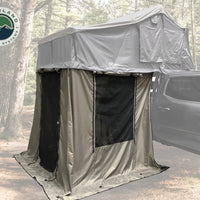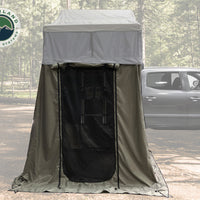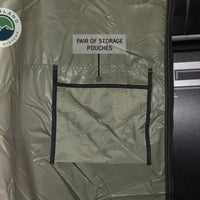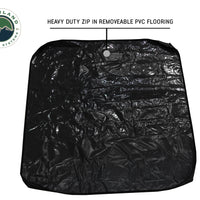 Overland Vehicle Systems - Nomadic 4 Roof Top Tent Annex w/Cover
Description

Specifications
Features: Marine Grade 420D Polyester Oxford Waterproof Rain Fly, 120g Fade-less Gaze Breathable Windows, Transportation Cover With Carry Handle, Two Internal Storage Compartments
 What's Included & Features: 
Annex Body: Manufactured from a 420D Polyester Oxford Waterproof Material
Annex Floor: 1000g PVC Based That Can Be Completely Removed
Doors & Windows: 120g Environmental Fadeless Gaze Breathable
Tie Down Points: Twelve Tie Down Points to Support All Four Sides
Travel Cover: Manufactured from a 420D Polyester Oxford Waterproof Material With Carry Handle
Dimensions: 100" Wide X 80" Depth X 82" High
Fitment: Nomadic 4 Extended Roof Top Tent
Installation: Requires no drilling or modification to your Nomadic Roof Top Tent.
Weight:15.00 LBS

Width:6.00 (in)

Height:36.00 (in)

Depth:6.00 (in)

GTIN:18049836

MPN:18049836

SKU:18049836
Warranty:
Overland Vehicle Systems NOMADIC Tents are produced to the highest manufacturing standards and are covered by a limited Four-Year warranty that protects the original purchaser against any defects in materials and workmanship under normal use. If upon determination by Overland Vehicle Systems that the Tent is defective, Overland Vehicle Systems will repair or replace without charge, with an equivalent tent to the original purchaser according to the instructions supplied with the Tent, and not damaged due to abuse, misuse or negligence.

This warranty will not cover any labor charges incurred in installation, removal, replacement or repair, transportation cost or any consequential damages, which might be caused by the product.

Overland Vehicle Systems and 4WD Crew shall not be liable in case of;

Improper installation or modification of original product.

Damages resulting from abuse

Improper installation

Any commercial application
If the original purchaser finds a defect in material or workmanship, please contact Overland Vehicle Systems Warranty Service, 9115 Dice Road Suite 14, Santa Fe Springs, CA 90670. Please include proof of purchase or sales receipt. The law in some states may expand or modify this warranty. This warranty supersedes all other warranties, expressed or implied.