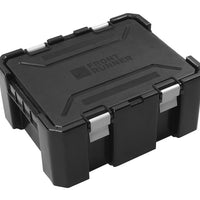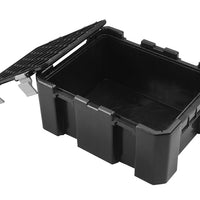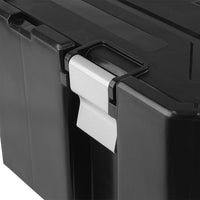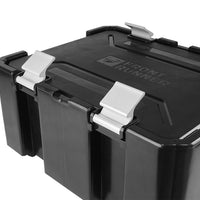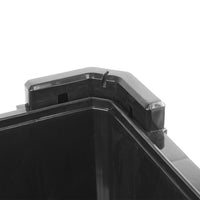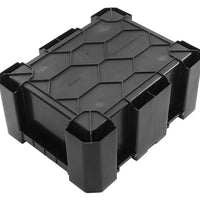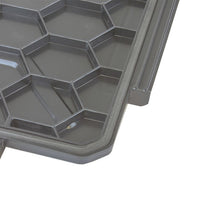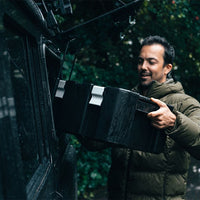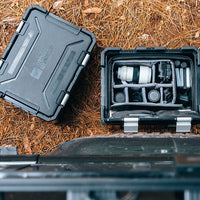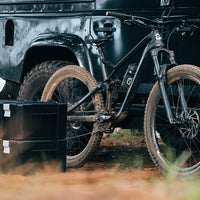 Front Runner - Wolf Pack Pro
These plastic, workable sized storage boxes are easy to arrange in a cargo bed and vertical-sided to avoid wasted space. They stack securely for convenient storage in your vehicle thanks to the lids fitting neatly into the base of the box above it.
Made from black, impact-resistant plastic.
Features new extra-secure latches sealing the Wolf Pack Pro.
Water & dust resistant.
Integrated grips for easy carrying.
Versatile. Use in the cargo bed, truck/boot, or on your roof rack.
Suitable for exterior storage.
Wolf Pack Pros form the heart of many Front Runner storage systems. The Front Runner Transit Bags hold 2-3 Wolf Pack Pros depending on Transit Bag size and Wolf Pack configuration. Front Runner Wolf Pack Drawer Systems provide a comprehensive and practical vehicle storage solutions.
For a padded storage solution, line the Wolf Pack Pro with a Flat Pack or Storage Box Foam Dividers to protect camera gear, kitchenware and other fragile items.
Use in conjunction with Wolf Pack Pro Rack Mounting Brackets or Stratchits as well as Black Tie Down Rings / Eye Nuts for a safe and secure roof rack storage solutions.
Wolf Pack Pro are not stackable with Wolf Pack.

PLEASE NOTE:
Due to varying internal air pressure, the lid of the Wolf Pack Pro may occasionally prove difficult to open due to its sealing ability. To open, apply moderate pressure to the lid with one hand directly next to the latch, checking the latch is properly closed before unlatching.

To view a demonstration, please view video in the videos tab above.
Consists of:
1x Wolf Pack Pro

Materials used:
Polypropylene black plastic

Product Dimensions:
External Dimensions:
510mm (20.1") L x 400mm (15.7") W x 230mm (9.1") H

Internal Dimensions:
445mm (17.5") L x 335mm (13.2") W x 203mm (8") H

Weight:
3.65kg (8.1lbs)
Travel. Dream. Design. Build. Test. Evolve. Repeat.
Front Runner Outfitters manufactureres high quality products that are manufactured in just outside Johannesburg, South Africa.  Their roof racks, water tanks, tents, awnings, drawer systems and camping accessories are enjoyed, used and abused around the world by casual campers, the U.N., overlanders, NGOs, outdoor enthusiasts and extreme athletes.
Free Shipping On All Slimline II Racks | Continental 48 States Only