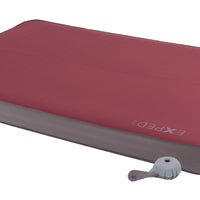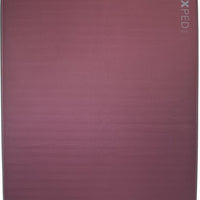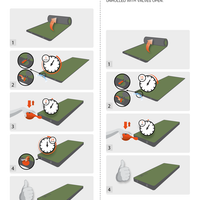 Exped - MegaMat Max 15 Duo LW+
Description

Features

Specifications

Instructions

FAQ
EXPED's famous MegaMat built 50% thicker!
MegaMat Max 15 Duo has at its core 15 centimeters (6") of just-the-right density, Oeko-Tex 100 certified, open-cell polyurethane foam for support and warmth. The air-core-channeled foam allows the mat to be soft-inflated for an enhanced cradling of the body. Combined with 50-denier stretch top fabric, MegaMat Max offers an unbelievably soft and supple sleep platform. 
Vertical sidewalls (3-D construction) are an important EXPED "firstovation," maximizing the usable sleeping surface for edge-to-edge comfort, just like your bed at home. The Duo LW+ version comfortably sleeps two people in a roomy tent, full-sized vehicle or passenger van, and even in your guest room at home. 
EXPED's extra-large, high flow-rate FlatValves™ (another EXPED innovation) ensures fast inflation and deflation. The included top-loading SideWinder stuff sack eases packing and carries over the shoulder.
Luxurious 15 cm-thick open-cell foam support
Stretch tricot surface for maximum comfort
Air-core-channeled foam reduces weight and bulk
Extra-large deflation valve for maximum air flow
Sold with easy-to-pack SideWinder™ stuff sack and Mini Pump
3-D vertical sidewalls (no tapering) for optimal sleeping surface area
R-Value (ASTM): 10.6
Temperature: -70.6 °F
Thickness: 5.9 in
Weight: 216.8 oz
Dimensions: 77.6 in x 52 in
Packed Dimensions: 29.5 in x 13.8 in
Pack Volume: 72 L
Product contents: Mat, Mini Pump, SideWinder Stuff Sack, Repair kit
Warranty: 5 years
Materials
Top: 50 D Tricot nylon, TPU Polyether film laminate, hydrolysis resistant, honeycomb embossed, Oeko-Tex® 100 certified
Bottom: 75 D Polyester, TPU Polyether film laminate, hydrolysis resistant, Oeko-Tex® 100 certified
Insulation: 16 kg/m² open-cell PU foam, Oeko-Tex® 100 certified
Question
How do I store my sleeping mat?
Answer
We recommend storing the mat unrolled with both valves open in a dry and cool area e.g. under the bed
---
Question
What do the numbers in the product name of your sleeping mats mean?
Answer
The number in the product name of our sleeping mats signifies the thickness of the mat. For example, a Downmat "7" would be a 7 cm (2.8 inches) thick mat.
---
Question
How do I clean my sleeping mat?
Answer
We recommend cleaning your mat with warm water and a mild detergent (no bleach!). Using a rag or soft sponge, carefully clean the mat. Make sure all valves are fully closed. Rinse well. The mat should air dry after cleaning. Do NOT put your mat in a washing machine or dryer.
---
Question
I found the source of the leak, how do I make a repair?
Answer
Here are a couple of helpful videos on making a repair to your sleeping mat. Also, you will find instructions in the repair kit which was included with your sleeping mat.
---