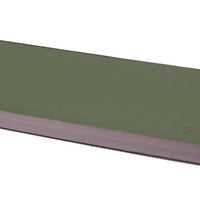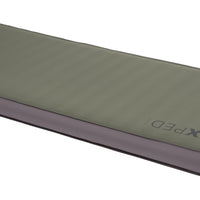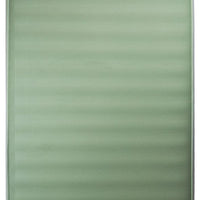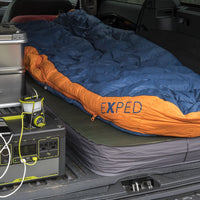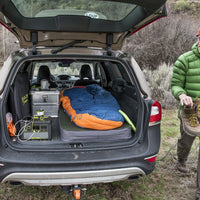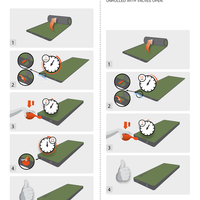 Description

Features

Specifications

 Instructions

FAQ
MegaMat is our original, most comfortable, best-reviewed sleeping mat, making truly luxurious sleep a reality for thousands of car campers and overland enthusiasts everywhere since its introduction in 2011.
We have never wavered from our commitment to the highest quality materials, workmanship, and design, beginning with the tiniest details. These details work in concert toward one goal: a body-cradling, luxurious sleep experience while out-and-about in the wide world.
MegaMat 10 has at its core 10 cm (4") of just-the-right density, Oeko-Tex 100 certified, open-cell polyurethane foam for support and warmth. Horizontal air channels in the foam help reduce weight and packed volume without sacrificing comfort. To enhance the cradling effect, like a high-end home-based bed, the mat's surface features a brushed, stretch tricot nylon that relieves pressure points (hips and shoulders) while evenly supporting the body across all surfaces, head to foot.
MegaMat is self-inflating. When the inflate valve is opened, the foam expands and draws air into the mat. An EXPED Mini Pump is included to top-off the inflation and achieve the preferred firmness. Inflate and deflate valves are large, high flow-rate FlatValves™ – an EXPED "firstovation" (first-ever innovation). The inflate valve is equipped with a one-way flapper, allowing air to easily be purged during the night and with just the touch of a fingertip if you find the mat is too firm.
Vertical 3-dimensional sidewalls allow the top surface to extend all the way out to the edge of the mat without tapering, maximizing the usable sleeping surface -- just like a bed at home!
Proven field performance
4" of 

Oeko-Tex 100 certified, open-cell polyurethane foam for support and warmth

Stretch tricot surface for maximum comfort
Air-core-channeled foam insulation reduces weight, bulk
Separate inflation/deflation FlatValves, extra-large deflation valve
3-D vertical sidewalls for maximum sleeping surface
MiniPump for top-off inflation
Sold with easy-to-pack SideWinder™ stuff sack
Durable construction
| | | | | |
| --- | --- | --- | --- | --- |
| Size | Dimensions | Weight | Packed Dimensions | Pack Volume |
| MW | 72.1 in × 25.6 in | 73 oz | 26.4 in x 7.9 in | 21 L |
| LXW | 77.6 in × 30.3 in | 91.9 oz | 31.1 in x 9.8 in | 39 L |
Temperature: -40 °F
R-value: 8.1
Thickness: 3.9 in
Pump Weight: 1.6 oz
Packsack Weight: MW: 5.3 oz; LXW: 6.2 oz
Product contents: Mat, Mini Pump, Packsack, Repair Kit, Instruction Sheet, Repair Manual

Materials

Top: 50 D Polyester, TPU Polyether film laminate, hydrolysis resistant, honeycomb embossed, Oeko-Tex® 100 certified
Bottom: 75 D Polyester, TPU Polyether film laminate, hydrolysis resistant, Oeko-Tex® 100 certified
Insulation: 16 kg/m² open-cell PU foam, Oekotex® 100 certified
Question
How do I store my sleeping mat?
Answer
We recommend storing the mat unrolled with both valves open in a dry and cool area e.g. under the bed
---
Question
What do the numbers in the product name of your sleeping mats mean?
Answer
The number in the product name of our sleeping mats signifies the thickness of the mat. For example, a Downmat "7" would be a 7 cm (2.8 inches) thick mat.
---
Question
How do I clean my sleeping mat?
Answer
We recommend cleaning your mat with warm water and a mild detergent (no bleach!). Using a rag or soft sponge, carefully clean the mat. Make sure all valves are fully closed. Rinse well. The mat should air dry after cleaning. Do NOT put your mat in a washing machine or dryer.
---
Question
I found the source of the leak, how do I make a repair?
Answer
Here are a couple of helpful videos on making a repair to your sleeping mat. Also, you will find instructions in the repair kit which was included with your sleeping mat.
---