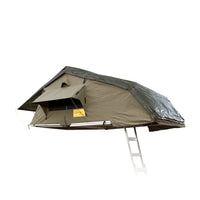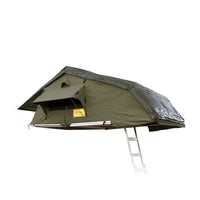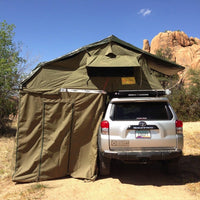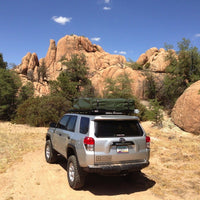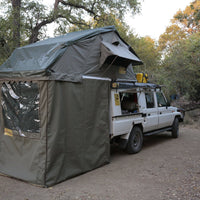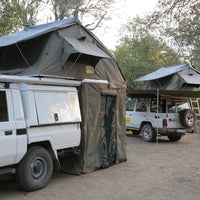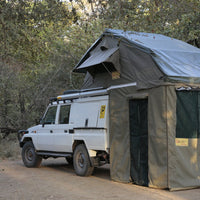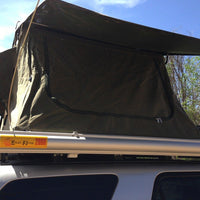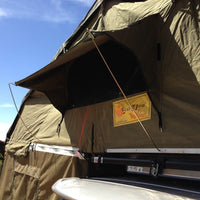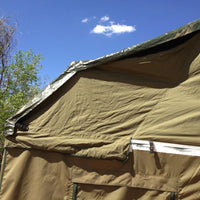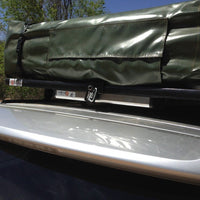 Eezi-Awn - XKLUSIV Roof Top Tent
Description

Specifications

FAQs

Shipping
Click here for our Shipping Policy for Lead Times
The XKLUSIV Roof Top Tent from Eezi-Awn utilizes the same folding platform design and main features as the Series 3 Roof Top Tent, Eezi-Awn's flagship RTT model, but also offers an extended roof line and ground-level room (with a 6'5" ceiling height) for added comfort. It can be mounted for entry facing the back or either side of most vehicles or trailers. This series offers a range of sizes to accommodate as little as 2 adults up to a family of 5.
Features
Elevated Roof Line Above Ladder Area
Ladder Extension Integrated into Ladder 
In-Tent Vehicle Access
Ground Level Sleeping Room for Two
Integrated Door & Window
Storage Bag for Walls & Ground Cover
4 Large Doors & Windows with Mesh & Privacy Panels
2 Large Window Shades
4 Pockets Under Windows
2.5" Thick Hi-Density Foam Mattress Covered in African-Printed Fabric
Unique Internal Bungee System to Assist with Storing Tent
Ratchet Strap Incorporated into Cover
Universal Mounting Construction
Optional Ladder Extension
Optional Bull Bar Mounts
Construction
420 gram Poly-Cotton Canvas Woven with Impregnated Heavy-Duty Wax Thread
Double Stitched Throughout with Wax-Coated Cotton Thread
80% Mesh Screen with Trapezoidal Microfiber
700 Denier PVC Roof Tent Cover with Welded Seams & 5 year UV-rating
Elevated PVC Rainfly with Reinforced Rainfly Mounts
Full-Time Tent Peak Ventilation
Heavy-Duty Anodized Aluminum Extrusions
Stainless Steel Hardware
Polyurethane-Encased Hardwood Panels
Spring Steel Rainfly & Window Rods
Patented Anodized Aluminum Extension Ladder
Nylon Reinforced Clips
YYK© Zippers
Add-On-Room : 260 gram Poly-Cotton Ripstop Coated with Teflon
Anodized Aluminum "U" Shaped Roofline Extension Frame
Poly-Cotton Canvas Roofline Extension & Room Walls
Heavy-Duty Open Weave Plastic Ground Cover
Clearance : Add 2-3" (50-75mm) to closed dimensions to accommodate for fabric cover.
Comparison
| | |
| --- | --- |
| 1400 | The 1400 is the smallest in the line and perfect for a single person or a couple. It requires the support of at least 2 load bars. The Add-On room provides ~30 square feet of enclosed ground-level space. |
| 1600 | The 1600 is very spacious, but still compact for lighter weight travel. It requires the support of at least 3 load bars. The Add-On room provides ~35 square feet of enclosed ground-level space. |
| 1800 | The 1800 is the second largest tent in the line offering a great size for a small family. It requires the support of at least 3 load bars. The Add-On room provides ~40 square feet of enclosed ground-level space. |
| 2200 | The 2200 is the largest tent in the line, accommodating a full-size family or friends on the road. It requires the support of at least 4 load bars. The Add-On room provides ~50 square feet of enclosed ground-level space. |
SIZE
MATTRESS
SLEEPS
WEIGHT
DIMENSIONS

1400

Double


(2) Adults

192 lbs  |  87 kg

Open : 96" L x 55" W x 51" H  |  2440mm L x 1400mm W x 1300mm H
Closed : 48" L x 55" W x 11" H  |  2220mm L x 1400mm W x 280mm H
Add-On Room : 78" L x 55" W x 78" H  |  2000mm L x 1400mm W x 2000mm H

1600

Queen


(2) Adults + (1) Small Child

205 lbs  |  93 kg

Open : 96" L x 63" W x 51" H  |  2440mm L x 1600mm W x 1300mm H
Closed : 48" L x 63" W x 11" H  |  1220mm L x 1600mm W x 280mm H
Add-On Room : 78" L x 71" W x 78" H  |  2000mm L x 1600mm W x 2000mm H

1800

King


(2) or (3) Adults + (2) Small Children

220 lbs  | 100 kg

Open : 96" L x 71" W x 51" H  |  2440mm L x 1800mm W x 1300mm H
Closed : 48" L x 71" W x 11" H | 1220mm L x 1800mm W x 280mm H
Add-On Room : 78" L x 63" W x 78" H  |  2000mm L x 1800mm W x 2000mm H

2200

(2) Twins


(4) Adults

255 lbs  |  116 kg

Open : 96" L x 87" W x 51" H  |  2440mm L x 2200mm W x 1300mm H
Closed : 48" L x 87" W x 11" H  |  1220mm L x 2200mm W x 280mm H
Add-On Room : 78" L x 87" W x 78" H  |  2000mm L x 2200mm W x 2000mm H
What is the difference between the Series 3/XKLUSIV tents, and the Jazz/Fun tents?
The Eezi-Awn Series 3 and XKLUSIV roof top tents are the legendary flagship soft shell roof tops tents on the market.  They are the benchmark, for robust construction and durability, decades of world travel experience.  The Jazz and Fun roof top tents are every bit an Eezi-Awn product, built to a slightly lighter, more economical specification.  All the Eezi-Awn tents are built on the same production lines, and use many of the same components.  The Jazz/Fun line uses a bit lighter Teflon coated polyester rip-stop material.  And because it is lighter, lighter bows, hinges, overhang extrusions, etc. can be used.  The side window coverings are incorporated into the rain fly too, to save on materials and labor.  The result is a true Eezi-Awn quality product, that compares closely with other tents on the market. 
Why does Eezi-Awn use wood panels for their floor instead of a composite material?
There is a very good reason for the wood panels that you see on the Eezi-Awn tents.  Not only do they look more classic, it has mostly to do with insulation.  Most of the tent producers on the market are using some fashion of aluminum sheeting with a thin insulation sandwiched in between.  Aluminum is great at transferring temperature.  So when you have a cold exterior surface, and a warm interior surface, you will inevitably end up with condensation on the interior surface.  That means your mattress is going to get wet.  Some companies offer a "condensation sheet" for their floors.  That is not a solution to the issue.  The solution is better insulation.  The wood panels that Eezi-Awn use are a solid core Moranti plywood.  Moranti is very dense, like teak.  So dense it will not absorb water.  It gives the floor a great insulation value.  You do not need a condensation sheet on our tents. 
How can I clean the material on this tent? 
The material used to make the Series 3 and XKLUSIV tents is made of a a cotton/polyester thread that is wax impregnated before weaving into the rip-stop material.  If the material gets stained, wait until completely dry and brush the stained spot with a fine bristle brush.  If necessary, use a gentle liquid detergent and lightly scrub the spot.  Rinse thoroughly, and let dry. 
Do I need to put a repellent on the tent material? 
The cotton/polyester thread with wax impregnation makes the tent very water resistant and breathable.  Do not apply a repellent to it.  That will seal the material and remove it's breath-ability. 
Do I need to put a protectant on the cover? 
The cover is made of a 700 gram double sided PVC that has been treated with a UV protectant.  Each time you wash your cover, you do remove a little of that protect.  That leaves the cover more susceptible to the sun.  We suggest applying a UV protectant such as 303 Aerospace Protectant for Plastic, Vinyl, and Rubber after each washing. 
Is the Rain Fly removable? 
Yes.  The rain fly is elevated from the main body of the tent to create an air gap between the rain fly and the tent.  This is to help keep in cool in the summer, and warm in the winter.  The rain fly is attached to the tent with a full set of YKK low temperature buckles that can unclip, and allow you to remove it. 
How does the extended roof line work? 
Eezi-Awn developed a set of extrusions that attach to the bottom of the overhanging panel.  You loosen two friction knobs, and slide the U shaped extrusion set out horizontally.  Before getting to full extension, there is a second U shaped extrusion set recessed in the first one that elevates into place to raise the roof line upward.  Once that is in place, you extend the first extrusion set to full extension and tighten the friction knobs in place.  To put the roof line away, you reverse the process. 
How do the walls attach to the tent? 
The wall system is stored in it's own bag, separate from the tent.  Once the XKLUSIV tent roof line extension is in place, the walls attach to the overhang in a combination of male/female welts and hook/loop attachment points.  Once you hang the walls, you can stake the bottom edge to the ground with the stakes provided. 
What is the mattress like? 
Eezi-Awn builds their mattresses from a high quality 300 weight foam, with a fabric cover.  The fine line of building a mattress is to ensure support, but not too soft to compress through, or so hard that it feels like a board.  They have found the happy medium. 
Can I store sleeping bags inside the tent? 
Yes, if you are aware of where to put them.  Think of a roof top tent like a giant wood and canvas turnover.  There is a void in the middle of the mattress area, on the half of the mattress above the bolted down side of the the tent that is enough area for a couple down sleeping bags and pillows.  It needs to be on the bolted down side.  If you put it on the side that folds over, all the sleeping gear will slide down to the hinge point and bind up the closing of the tent.  Try a few times, and it will make sense. 
Why are the Eezi-Awn tents so heavy compared to other tents? 
Eezi-Awn walks a fine line between weight conservation and durability.  The materials used in the construction of their roof top tents are designed to last a lifetime, if taken care of.  A roof top tent endures all the vibration and abrasion that your vehicle does.  The tent materials rub against each other constantly.  Lighter materials start to fail quickly, as their water proof and UV coatings wear away.  Plastic components stress and fail over time.  Eezi-Awn doesn't use plastic components in their tents, and they use thicker material and mesh to stand the test of time.  Consequently, the tents weigh a bit more.  But it's worth it. 
What is the warranty on an Eezi-Awn tent? 
The short answer is 3 years, against materials and workmanship.  The long answer is that our philosophy is this.  If it is our fault, we will fix it.  If it is your fault, we'll help you fix it.  Eezi-Awn tents are built to last.  With good care, they will.  If something needs addressing, we carry a full line of replacement parts in the US, and we can get anything you need from the factory.  
What do I need to put a roof top tent on my vehicle? 
Typically, the load bars that come on your vehicle are not up to the task of holding a roof top tent.  The load rating on most OEM rack systems are between 100 and 150 pounds.  That is roughly what the tent weights, let along a couple occupants.  At a minimum, at a good pair of load bars, such as Thule or Yakima produces, that are more sturdy than the ones your vehicle came with.  This is a minimum.  For a more robust solution, consider replacing your OEM rack with a K9 Load Bar or Roof Rack System. 
How do the Eezi-Awn tents attach to a vehicle? 
There is a set of aluminum extrusions attached to the bottom of each tent.  Each extrusion has a slot built into it, to accept a rectangular washer holds the head of a 8mm bolt.  Your tent comes with a DIY kit that includes 4 of these washers, along with the bolts/fender washers/nuts to attach the tent.  You can slide these washers in the extrusions to the point where you want to attach them, then add a nut and washer to the bottom of the bolt.  If clamping to a load bar, we have additional mounting hardware to accommodate this.  Please look at the Roof Top Tent Mounts section on our site. 
How high can I mount this tent? 
The Eezi-Awn ladder is a 2 piece extension ladder that can support the overhanging portion of the tent up to 2 meters.  That is roughly 80".  You can shorten the ladder by adding holes in the vertical uprights to receive the connecting pins at a height of your desire.  We also offer a ladder extension, which add roughly 12" of length to the ladder for a max height of 92".  That height is to the bottom of the tent base.
SIGNATURE
You spent money on it and we want to ensure its safe delivery. All of our shipments are delivered with a required signature unless otherwise specified. Please contact us if you would like to remove this feature from your order. This service is complimentary.
LARGE ITEMS
Please be aware that larger items, including Eezi-Awn tents and racks, which are too large for traditional ground shipping, will require truck freight for delivery, and custom items shipping internationally are not eligible. We offer Free Domestic Shipping on these items to a commercial address. Roof Top Tents will require a loading dock or fork lift or a freight terminal close by for pick up. Roof Racks will require the ability to receive a large platform box; however Rack Feet and Rack Rail can be shipped to your residence. If you order a tent or rack from our website, contact us by phone or email and we will work with you to secure the most economical delivery of your product we can.
RESIDENTIAL
If you plan to ship to a residential address and the product is authorized to ship to a residential address, you will be charged an additional fee which is not automatically applied at checkout. Please write "Residential" in the notes section and we will contact you with a quote. If you do not make this denotation, you are responsible for all related fees and potentially the original shipping charge.
There are good reasons why Eezi-Awn is one of the largest manufacturers of RECVEE (Recreational Vehicle) Equipment which includes our rooftop tents, camping & vehicle awnings, K9 roof racks and roof rack accessories.
Since its inception in 1983 the name Eezi-Awn has long been synonymous with quality Rooftents, Rooftop Tents, Retractable Camping Awnings, Fridge Sliders, Roof Racks and Roof Rack Accessories. Eezi-Awns dedication for exceptional service is evident in all the equipment we produce, sell locally and export to many countries around the world.