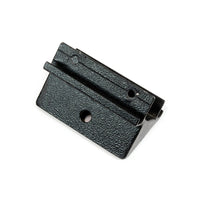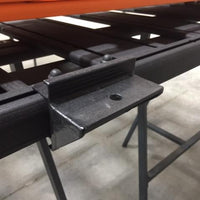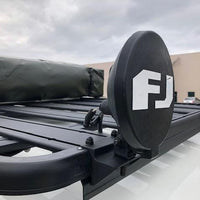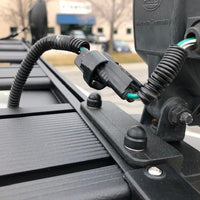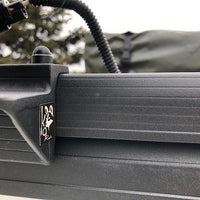 Eezi-Awn - K9 Spotlight Mount Set
The Spotlight Mount is an ingenious way to mount your spotlight to the side of your K9 Roof Rack System. When you're pounding through backcountry trails after the sun goes down, you need more than just your headlights to illuminate the road ahead of you. The K9 Spotlight Mount is designed to accommodate any size or style spotlight. The mount has a flat back surface, and utilizes one of the included K9 Accessory Adapters to attach to the top of the rack. This set comes with 2 mounts.
Features
Mounts to the Side of K9 Roof Rack
Includes All Installation Components & Hardware
1 lb | 0.5 kg
Powder-Coated Black Cast Aluminum
SIGNATURE
You spent money on it and we want to ensure its safe delivery. All of our shipments are delivered with a required signature unless otherwise specified. Please contact us if you would like to remove this feature from your order. This service is complimentary.
LARGE ITEMS
Please be aware that larger items, including Eezi-Awn tents and racks, which are too large for traditional ground shipping, will require truck freight for delivery, and custom items shipping internationally are not eligible. We offer Free Domestic Shipping on these items to a commercial address. Roof Top Tents will require a loading dock or fork lift or a freight terminal close by for pick up. Roof Racks will require the ability to receive a large platform box; however Rack Feet and Rack Rail can be shipped to your residence. If you order a tent or rack from our website, contact us by phone or email and we will work with you to secure the most economical delivery of your product we can.
RESIDENTIAL
If you plan to ship to a residential address and the product is authorized to ship to a residential address, you will be charged an additional fee which is not automatically applied at checkout. Please write "Residential" in the notes section and we will contact you with a quote. If you do not make this denotation, you are responsible for all related fees and potentially the original shipping charge.
There are good reasons why Eezi-Awn is one of the largest manufacturers of RECVEE (Recreational Vehicle) Equipment which includes our rooftop tents, camping & vehicle awnings, K9 roof racks and roof rack accessories.
Since its inception in 1983 the name Eezi-Awn has long been synonymous with quality Rooftents, Rooftop Tents, Retractable Camping Awnings, Fridge Sliders, Roof Racks and Roof Rack Accessories. Eezi-Awns dedication for exceptional service is evident in all the equipment we produce, sell locally and export to many countries around the world.