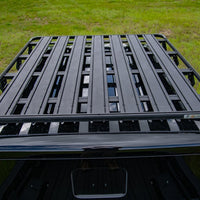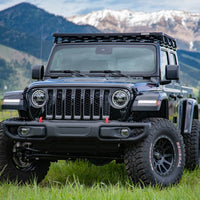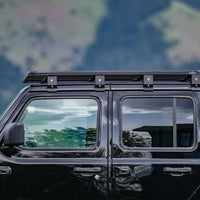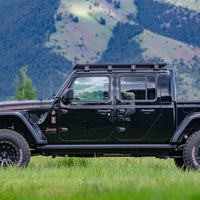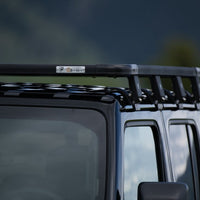 Eezi-Awn - Jeep Gladiator K9 Roof Rack Kit
Description

Specifications

Instructions

Shipping
Click here for our Shipping Policy for Lead Times
The K9 Roof Rack System from Eezi-Awn is a revolutionary advancement in expedition-style racks; it is thinner, lighter, stronger, quieter, more functional, more aerodynamic, more durable, and more aesthetically complimentary to your vehicle than the competition. Made from matte black powder-coated, extruded aluminum with fully-welded joints (not bolts), the low-weight K9 offers an infinite number of gear organization configurations. At only 1-3/8" thick, the platform itself is very low-profile with aerodynamic edging that won't slow you down. With a modular system outside your vehicle to accommodate shovels, axes, jerry cans, and more, you save valuable space inside your vehicle.
Features
Fully Welded 1-3/8"H Low-Profile Platform
Light Weight All Aluminum Construction
All Components Are Anodized And Powder Coated Matte Black
5-1/8" Wide M8 T-Slot Slats, Running Front to Back
Semi-Elliptical Bottom Cross Braces To Reduce Wind Noise
M6 T-Slot Around Top Perimeter With Rounded Top Edge
5 Lengths and 3 Widths Of Platform Available
Multiple Mounting Configurations Including Gutterless/Gutter/OEM Rack Mounts
Full Compliment of K9 Roof Rack Accessories For Top/Bottom/Side Mount
Infinite Gear Organization Configurations
Includes All Installation Components & Hardware
System Components
Every system comes complete with platform, rails, feet or legs, and all the hardware components required for installation.
Thule & Yakima Compatible
The K9 Roof Rack is also the only overlanding rack on the market that is easily compatible with your existing Thule or Yakima sports bar mounts for bikes, kayaks, etc. With store-accessible 6mm hardware that attaches to the K9's perimeter, your hobbies won't become obsolete with your "old gear."
Thule Models: Podium Foot Pack 460, Fit Kit KIT3101
Yakima Models: Skyline Tower, Landing Pad 4
The K9 Roof Rack System is a welcome alternative to the cage-style racks that once defined the typical overland roof rack. It is sleek, understated, and complimentary to the aesthetics of vehicles new and old. It is most importantly, remarkably robust, an attribute we would naturally expect from the engineers at Eezi-Awn.
Feet vs Legs
The K9 Roof Rack Kit comes with various components. The Mounting Rail is compatible with Gutter-Less Roofs, like those found on the Toyota 4Runner, Tacomas, or 100 / 200 Series Land Cruisers. K9 Roof Rack Feet are then attached to that Mounting Rail. When there is a vehicle with a Gutter, we use K9 Roof Rack Legs.
The K9 Roof Rack Feet come in 3 basic sizes: 40mm / 2.5", 65mm / 3.25", and 90mm / 4". Each of these feet do have a height adjustment range, measuring from the top of the mounting rail vertically to the top of the foot where the platform attaches. At first glance, the available sizes are in the middle of their ranges; this is because Eezi-Awn uses their middle measurement height as the identifier.
40mm (2.5") height range 55-65mm (2.25" - 2.5")
65mm (3.25") height range 75-90mm (3" - 3.5")
90mm (4") height range 95-115mm (3.75" - 4.5")
The K9 Roof Rack Legs are all measured from the bottom of the leg that sits in the gutter, vertically to the top of the leg where the platform attaches. Each size has 15mm, or a little over 0.5" of height range upward from the listed height.
150mm (6") height range 150-165mm (6" - 6.5")
170mm (6.75") height range 170-185mm (6.75" - 7.25")
190mm (7.5") height range 190-205mm (7.5" - 8")
210mm (8.25") height range 210-225mm (8.25" - 8.75")
230mm (9") height range 230-245mm (9" - 9.5")
250mm (9.75") height range 250-265mm (9.75" - 10.25")
300mm (11.75") height range 300-315mm (11.75" - 12.25")
SIGNATURE
You spent money on it and we want to ensure its safe delivery. All of our shipments are delivered with a required signature unless otherwise specified. Please contact us if you would like to remove this feature from your order. This service is complimentary.
LARGE ITEMS
Please be aware that larger items, including Eezi-Awn tents and racks, which are too large for traditional ground shipping, will require truck freight for delivery, and custom items shipping internationally are not eligible. We offer Free Domestic Shipping on these items to a commercial address. Roof Top Tents will require a loading dock or fork lift or a freight terminal close by for pick up. Roof Racks will require the ability to receive a large platform box; however Rack Feet and Rack Rail can be shipped to your residence. If you order a tent or rack from our website, contact us by phone or email and we will work with you to secure the most economical delivery of your product we can.
RESIDENTIAL
If you plan to ship to a residential address and the product is authorized to ship to a residential address, you will be charged an additional fee which is not automatically applied at checkout. Please write "Residential" in the notes section and we will contact you with a quote. If you do not make this denotation, you are responsible for all related fees and potentially the original shipping charge.
There are good reasons why Eezi-Awn is one of the largest manufacturers of RECVEE (Recreational Vehicle) Equipment which includes our rooftop tents, camping & vehicle awnings, K9 roof racks and roof rack accessories.
Since its inception in 1983 the name Eezi-Awn has long been synonymous with quality Rooftents, Rooftop Tents, Retractable Camping Awnings, Fridge Sliders, Roof Racks and Roof Rack Accessories. Eezi-Awns dedication for exceptional service is evident in all the equipment we produce, sell locally and export to many countries around the world.