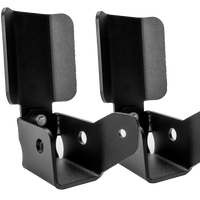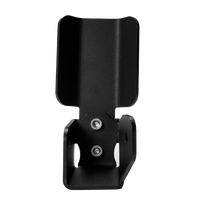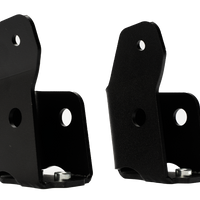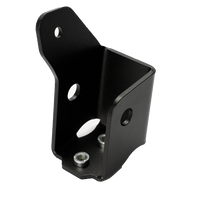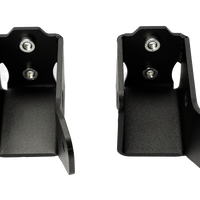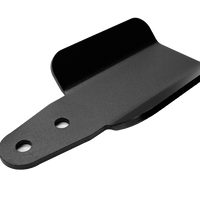 Cali Raised LED - Toyota Tacoma Rear Shock Skid Plates 2005-2021
Description

FAQs

Instructions

Lead Times
Click here for our Shipping Policy for Lead Times
Before you hit the rough terrain, protect your vehicle with rear shock skid plates that can take a hit and are built to last through the toughest conditions. Guarding the underside of your outfitted off-road vehicle as you adventure in the great outdoors, these skid plates are custom-made to fit your vehicle so you can focus on the trail ahead.
These are a universal fit for all 2nd and 3rd Gen Tacoma's.
Crafted from American 10GA steel and powder coated a tuff semi-gloss mini texture black. The rear shock mount skid plates are 100% bolt-on and are installed with zero modification to your truck. Using our innovative design, unlike other shock skids where your u-bolts need to be removed, ours do not. Making your install safer and faster with less opportunity to have an installation problem.
Features:
100% bolt-on option, no modification required.
Powder-coated semi-gloss mini texture black.
Made from 10GA Steel
Easy installation, read our installation instructions or watch the installation video below for a step-by-step guide.
Crafted by American Welders, professional finishes to protect from any corrosion.
Will the Cali Raised skids work with the TRD skid plate?
Yes and No. The transfer case, LCA, shock skid, and fuel tank skid will work with the TRD pro skid. The front and transmission skids will not.
Does the transfer case skid protect the catalytic converter from theft?
Not a guarantee, but it will make it more difficult for thieves to fit cutting tools in that area. But these were not designed for theft prevention. The transmission skid covers 50% of the catalytic converter.
Are they bolt-on, or do they require modification?
Yes, they are 100% bolt-on. You will have to remove some factory items, but they use all existing bolt holes. You can go back to stock at any time.
What types of material are the skid plates made from?
The front, transmission, transfer case and fuel skids are all made from either 3/16" thick steel, or 1/4" 5052 aluminum. 100% MADE IN USA, Fort Worth, Texas.
For the fuel tank skid, will I need TRD Off-Road fuel tank straps?
Yes, you will. They are designed to use the 4 factory bolts that come with the TRD Off-Road straps. The factory plastic gas tank is susceptible to gouging and slicing. That is what the skid plate protects. However, the tank is also a very thick plastic as is very strong and with the skid plate attached, it can handle a lot of weight.
Lead times below are estimates and are subject to change without notice.
At least a 7-10 day lead time on all products
Powder-coated Rock Sliders -

6-8 Weeks
Raw Rock Sliders-

4-6 Weeks
Roof Racks -

6 Weeks
Skid Plates -

3-6 Weeks
Bed Bars - 4-6 Weeks
Superior Design 

Sleek and sophisticated are the primary principles when it comes to design. When it comes to function, Cali Raised LED strives to make everything 100% bolt-on or with the fewest modifications necessary.

Premium Quality 

As disruptors, Cali Raised LED has changed the name of the game by designing and manufacturing all of our trail armor, roof, and bed racks in the USA. You never have to compromise with Cali Raised LED.

Fair Pricing

Cali Raised LED provides Economy and Premium versions to provide a solution for everyone on either side. No matter the budget, Cali Raised LED aims to keep our products affordable while never compromising on quality.