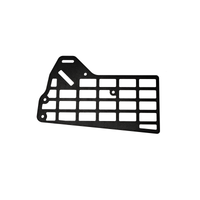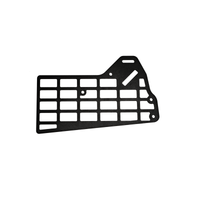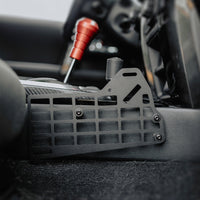 Cali Raised LED - Toyota 4Runner Center Console Molle Panels | 2010+
Maximize unused space, keep important items close, all while giving your vehicle an awesome new look with the Cali Raised LED Center Console MOLLE Panel. Our center console MOLLE systems are custom designed and laser-cut, providing a bent to perfection, seamless fit that's sure to impress. We also powder-coat it in a durable black semi-gloss mini texture to protect against corrosion, as well as anything else Mother Nature might throw at you. It's not only strong, but it's also lightweight, which makes it incredibly versatile while out of the beaten path. Mount any of the smaller and more important items you want at hands reach.
NOTE: This is a set. Comes as a pair.
Wherever you may wander, be prepared, with our center console MOLLE system from Cali Raised LED.
FEATURES:
Laser-cut and formed from 12 Gauge American Made Steel.
Easily removable which allows quick installation of your desired accessories.
Keeps important items within reach.
NOTE:
The panels have a slight bend in the design which allows for better fitment around the contour of the console.
Warranty
Cali Raised LED provides a 2-year warranty on all our MOLLE products.
What is MOLLE?
MOLLE is the acronym for Modular Lightweight Load-carrying Equipment. Molle gear is the current Army standard for equipment carrying load bearing packs worn by the combat soldier.
Lead times below are estimates and are subject to change without notice.
At least a 7-10 day lead time on all products
Powder-coated Rock Sliders -

6-8 Weeks
Raw Rock Sliders-

4-6 Weeks
Roof Racks -

6 Weeks
Skid Plates -

3-6 Weeks
Bed Bars - 4-6 Weeks
Superior Design 

Sleek and sophisticated are the primary principles when it comes to design. When it comes to function, Cali Raised LED strives to make everything 100% bolt-on or with the fewest modifications necessary.

Premium Quality 

As disruptors, Cali Raised LED has changed the name of the game by designing and manufacturing all of our trail armor, roof, and bed racks in the USA. You never have to compromise with Cali Raised LED.

Fair Pricing

Cali Raised LED provides Economy and Premium versions to provide a solution for everyone on either side. No matter the budget, Cali Raised LED aims to keep our products affordable while never compromising on quality.