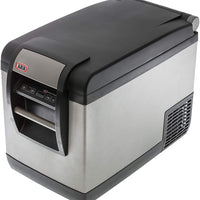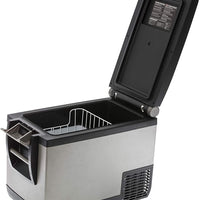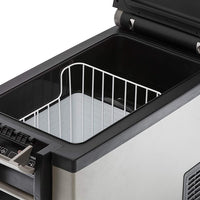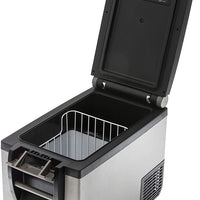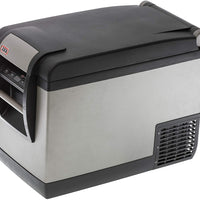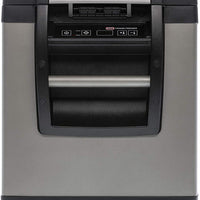 ARB - Classic Series II 50 Qt. Fridge Freezer (Grey/Black) ARB10801472
Description

Specifications
Keeping your food fresh and your drinks cold no matter where you are, the Classic Series II range of fridge freezers includes an advanced electronic control system with a dimmable backlit touchpad for easy night time operation, as well as a 12V power input readout for simple voltage monitoring on the display. Beneath the Classic Series II's tough steel outer casing, a reversible basket with divider helps keep food and drinks stored neat and tidy, while a convenient drain plug allows for simple cleaning. Not only enabling full control of fridge settings including temperature and battery protection, the wireless transmitter included with the Series II allows remote display and control through LINX and smart devices via the Fridge Connect app. Suitable for many medium to large SUV's, the class leading 50QT ARB Fridge Freezer is your perfect travelling companion.
50 Quarts (72 x 12oz cans)
Gun-metal grey with black highlights
Removable lid with integrated seal
Backlit, dimmable LED control panel with temperature display
Bluetooth transmitter allows full-control and monitoring with free iOS and Android apps
Receive an alert when someone leaves the lid open
Rear-facing internal cabinet LED light with magnetic switch
Durable, Secop compressor with smart electronic control system
Tough powder coated steel outer casing
Separate compartment for fruit and dairy products
Durable detent hinge
Integrated 3-stage battery protection system
Rubber feet
Strong, recessed steel carry handles
Reversible basket with divider
Convenient drain plug for simple cleaning
Integrated evaporator
External: 20" H x 15" W x 27.8" D
Fruit/Dairy: 8.1" H x 11.2" W x 6" D
Main compartment: 15.5" H x 11.2" W x 13.3" D
Weight: 53 lbs
Cooling capacity: 50°F to 0°F
3 year warranty
The origins of ARB can be traced back to Australia's remote Top End, circa 1975. A region of vast distances and rugged terrain, it was fast becoming a Mecca for the nation's burgeoning 4WD community. However, the very environment that attracted 4 wheelers also wreaked havoc on their equipment – when driving in extreme conditions, only the best 4×4 accessories will do.
This was the conclusion drawn by Tony Brown during his travels at the time. While exploring the treasures of the Top End, the skills Tony gained from working on his Land Rover were regularly called on to mend damaged bull bars and broken roof racks. Bar work back then was crude, not at all suited to overland touring, and through this experience an idea was born – high quality equipment that met the vigorous demands of 4WD owners.
Upon returning to Melbourne, Tony put theory into practice via the family garage, where he sought to address the product deficiencies he'd encountered. His vision called for a combination of sound design principles and reliable raw materials… a simple solution to an endemic problem. The concept was embraced when it hit the fledgling 4×4 market, and ARB – the initials of Anthony Ronald Brown – was founded.