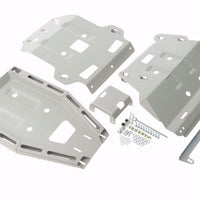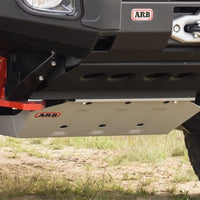 ARB - Under Vehicle Protection - Toyota 4Runner 2010+ w/KDSS and GX460 w/KDSS
The first skid plate panels system specifically designed for SUVs, these panels feature the same construction as the current range of panels, i.e.. pressed and folded 3mm steel. Due to the Prado 120/150, 4Runner and FJ Cruiser sharing the same chassis platform, the same skid plate design has been used for the four vehicles. However, a second kit has been built to suit the Prado 150 and 2010+ 4Runner with Kinetic suspension system as a slightly different lower bulge is required in the front panel due to the positioning of the kinetic sway bar. The transmission panel is common to both kits and also to petrol and diesel engine variants. It has a two position mounting bracket providing a lower mount for petrol engine vehicles where the exhaust sits lower than diesel models.
The transmission panel is also tapered to the rear to clear chassis bracing that is unique to the Prado/FJ chassis design. Developed with extensive field testing, ARB skid plates give protection to vital underbody components with vehicle specific models protecting steering, engine oil panel, transmission and transfer case where applicable. Panels are easily removed for vehicle servicing and where practical, include access to oil panel drain plugs. Each panel has recessed mounting bolts in vulnerable areas to ensure ease of removal even if the panels become damaged from severe off road service. ARB Skid Plate are fully compatible with all ARB products such as Bull Bars, Side Rail & Steps, Airlocker and OME.
Fitment:

5th Gen Toyota 4Runner with KDSS
Lexus GX460 with KDSS

Designed to protect vital underbody components including steering, engine oil pan, transmission and transfer case (dependent on vehicle model)
Vehicle specific design
Manufactured from folded 3mm laser cut steel
Securely bolted to the vehicles chassis providing outstanding structural integrity
All steel components are zinc plated and powdercoated in a silver textured finish
Easily removed for vehicle servicing
Note: Will not fit Toyota Prado 150 or 4Runner with-out Kinetic system, use ARB Skid Plate system part number 5421100 instead
The origins of ARB can be traced back to Australia's remote Top End, circa 1975. A region of vast distances and rugged terrain, it was fast becoming a Mecca for the nation's burgeoning 4WD community. However, the very environment that attracted 4 wheelers also wreaked havoc on their equipment – when driving in extreme conditions, only the best 4×4 accessories will do.
This was the conclusion drawn by Tony Brown during his travels at the time. While exploring the treasures of the Top End, the skills Tony gained from working on his Land Rover were regularly called on to mend damaged bull bars and broken roof racks. Bar work back then was crude, not at all suited to overland touring, and through this experience an idea was born – high quality equipment that met the vigorous demands of 4WD owners.
Upon returning to Melbourne, Tony put theory into practice via the family garage, where he sought to address the product deficiencies he'd encountered. His vision called for a combination of sound design principles and reliable raw materials… a simple solution to an endemic problem. The concept was embraced when it hit the fledgling 4×4 market, and ARB – the initials of Anthony Ronald Brown – was founded.