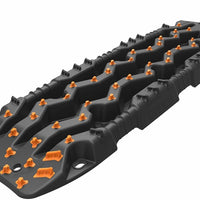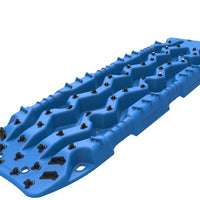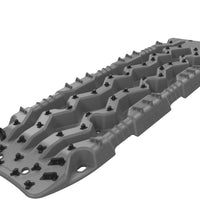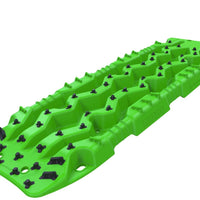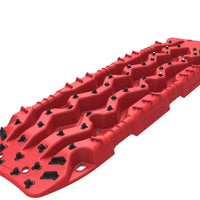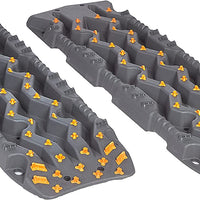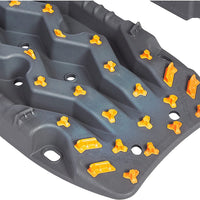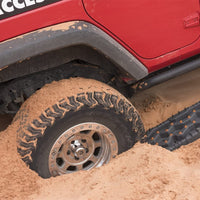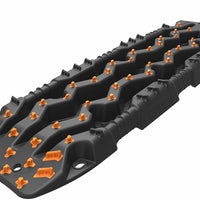 TRED Pro(TM) is the world's most advanced and highly engineered all-in-one off-road vehicle recovery device; specifically designed to get your four wheel drive, ATV and off road equipment out of trouble when traction is lost in sand, mud or snow. Its 100% Australian made and owned and it was the first recovery board with a lifetime warranty.
TRED Pro(TM) is the next generation of the successful TRED(TM) off road recovery device engineered and manufactured in Australia. We are confident TRED Pro(TM) will outperform any other recovery boards in the market and will give you the ability to explore with confidence, without the lack of traction disrupting your journey.
EXOTRED(TM) - TRED Pro's unique and patented composite construction, ensures that during wheel spin in a recovery the ramp/teeth won't suffer instant catastrophic damage that is commonly experienced with other leading recovery ramp products. The special polyolefin material blend means TRED Pro's can handle high levels of flex, are highly durable and wear resistant. The mix of elasticity and tough rigid design in the main body means that your TRED Pro(TM) maintains a high level of pressure on your tire, this ultimately provides traction while still allowing the flex of the TRED Pro(TM) under the vehicle's weight on unstable ground.
TRED Pro(TM) features a unique patented grip profile, specifically engineered to engage with the water evacuation channels on the tire. ARB engineers utilized 3D scanning and CAD modeling of the most popular tire brands to create a database of the world's highest selling off road tires. Through this data collection, they have been able to use real data dimensions to optimize teeth/nodule design and layout to make TRED Pro(TM) the ultimate in traction for recovery board devices. TRED Pro(TM) has improved on the original TRED product to ensure both the products design and material is optimized for use across a variety of terrains and seasons.
The origins of ARB can be traced back to Australia's remote Top End, circa 1975. A region of vast distances and rugged terrain, it was fast becoming a Mecca for the nation's burgeoning 4WD community. However, the very environment that attracted 4 wheelers also wreaked havoc on their equipment – when driving in extreme conditions, only the best 4×4 accessories will do.
This was the conclusion drawn by Tony Brown during his travels at the time. While exploring the treasures of the Top End, the skills Tony gained from working on his Land Rover were regularly called on to mend damaged bull bars and broken roof racks. Bar work back then was crude, not at all suited to overland touring, and through this experience an idea was born – high quality equipment that met the vigorous demands of 4WD owners.
Upon returning to Melbourne, Tony put theory into practice via the family garage, where he sought to address the product deficiencies he'd encountered. His vision called for a combination of sound design principles and reliable raw materials… a simple solution to an endemic problem. The concept was embraced when it hit the fledgling 4×4 market, and ARB – the initials of Anthony Ronald Brown – was founded.