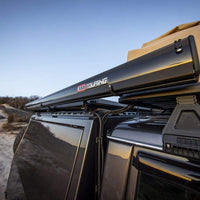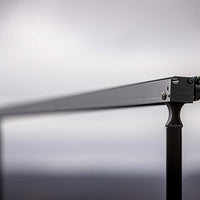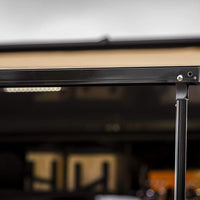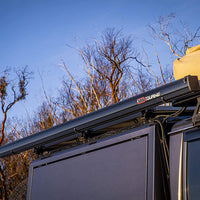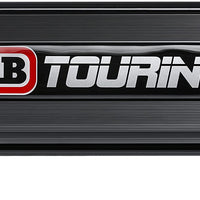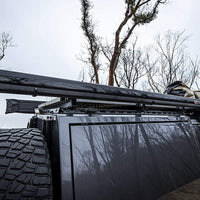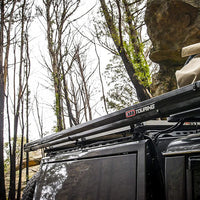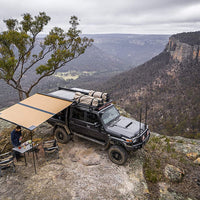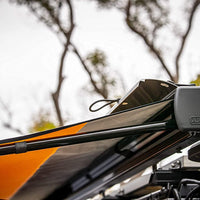 ARB - Touring Aluminum Awning with Light Kit - 2500mm x 2500mm (Black Case) - 814412A
Description

Specifications
Attaching neatly to most vehicles, these self-standing retractable awnings fit onto the side of most roof racks and roof bars, and are conveniently stored for immediate use on arrival. Specifically designed for harsh Outback conditions, the awnings feature anodized height-adjustable telescopic legs, Velcro Ties to secure roof, thick reinforced aluminum extrusions all secured and free from the outside elements in a heavy duty nylon reinforced PVC bag.
Constructed from tough PU coated 300gsm poly/cotton rip stop canvas, the awnings are fully waterproof and offer a UVP 50+ rating. ARB Awnings comes in three great sizes, and fit up to 2.1m (82.67") high Mounting points. (Length being the distance from the vehicle out).
Comes with pegs and guy ropes for securing legs, stainless steel mounting nuts and bolts and comprehensive instructions.
Specifically designed for harsh off-road conditions and coming complete with hardware and comprehensive instructions, each awning is rugged yet lightweight, and provide fast and convenient shade and protection from the elements.
Awning storage cover made from Aluminium and now in glossy black.
Special Features
Self standing awning takes 30 seconds to deploy. Awning height adjustable with telescopic legs.

Mounts easily to the side of most roof racks or roof bars. Awning Brackets ARBOS850 not Included

Awning storage cover made from Aluminium. Awning is secured in a heavy duty nylon reinforced pvc bag

Comes with pegs and guy ropes for securing legs, mounting nuts and bolts, spanner and comprehensive instructions.

This awning may be too big for small cars, please measure the car before purchasing ARB 814411. If this is your case look for ARB 814409. 2000x2500mm or 6.5'x8.2'

Several Accessories Available: Quick Release Brackets, Awning Rooms, WindBrakes, Universal Mounting Brackets, Awning Floors and Awning Walls.
Part no. 814412.
Size: 2500mm x 2500mm (98.43" x 98.43") in Black Aluminium cover
Material: Lightweight PU coated 300gsm poly/cotton canvas
Adjustable height!
Guy ropes and pegs supplied!
Waterproof and UV protected!
Comes with Led Light Strip to insert in the Awning Sleeve
The origins of ARB can be traced back to Australia's remote Top End, circa 1975. A region of vast distances and rugged terrain, it was fast becoming a Mecca for the nation's burgeoning 4WD community. However, the very environment that attracted 4 wheelers also wreaked havoc on their equipment – when driving in extreme conditions, only the best 4×4 accessories will do.
This was the conclusion drawn by Tony Brown during his travels at the time. While exploring the treasures of the Top End, the skills Tony gained from working on his Land Rover were regularly called on to mend damaged bull bars and broken roof racks. Bar work back then was crude, not at all suited to overland touring, and through this experience an idea was born – high quality equipment that met the vigorous demands of 4WD owners.
Upon returning to Melbourne, Tony put theory into practice via the family garage, where he sought to address the product deficiencies he'd encountered. His vision called for a combination of sound design principles and reliable raw materials… a simple solution to an endemic problem. The concept was embraced when it hit the fledgling 4×4 market, and ARB – the initials of Anthony Ronald Brown – was founded.