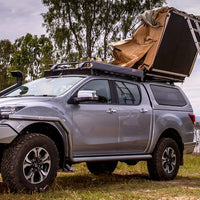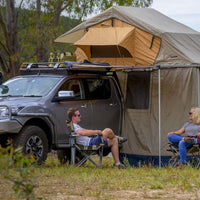 ARB - Series III Simpson Rooftop Tent and Annex Combo
Description

Specifications

Videos
ARB Rooftop Tents integrate an updated design with new materials for better strength, rigidity and water resistance. Manufactured from high-quality poly/cotton fabric and incorporating an Oxford polyester flysheet, rooftop tents are easily mounted to ARB's purpose-designed roof rack, or suitably load-rated roof bars. A retractable aluminum ladder makes getting into bed a trouble-free event.

Super Strong 1 inch Anodized aluminum poles improve strength and provide corrosion resistance properties, while a high-density 2.5 inch foam mattress (with removable cover) ensures you'll sleep soundly. And don't worry about the bed bugs biting, ARB Rooftop Tents come with insect screened windows and doors.

The ARB Simpson III rooftop tent delivers the ultimate in ease and convenience when traveling. Unfolding in mini pick-ups, a rooftop tent provides sleeping quarters off the ground, protected from the elements. All bedding can remain inside the tent during the journey, freeing up vital storage space in the vehicle, and allowing the tent to be quickly and easily packed away. Also aiding the fast pack down and setup, a unique bungee cord system keeps walls tucked in to assist in speeding up the pack down to get you back on the road faster.

Complementing the superb quality and product features of the Simpson Tent, an Annex is now supplied in a Tent-Annex-Combo kit for all Simpson III tents. To further complement the Simpson tent, 2 x elevated shoe pockets are included within the tent/annex combo.
ARB 4x4 Accessories |

Part Number: ARB803804

Fitment:Universal Fit
The origins of ARB can be traced back to Australia's remote Top End, circa 1975. A region of vast distances and rugged terrain, it was fast becoming a Mecca for the nation's burgeoning 4WD community. However, the very environment that attracted 4 wheelers also wreaked havoc on their equipment – when driving in extreme conditions, only the best 4×4 accessories will do.
This was the conclusion drawn by Tony Brown during his travels at the time. While exploring the treasures of the Top End, the skills Tony gained from working on his Land Rover were regularly called on to mend damaged bull bars and broken roof racks. Bar work back then was crude, not at all suited to overland touring, and through this experience an idea was born – high quality equipment that met the vigorous demands of 4WD owners.
Upon returning to Melbourne, Tony put theory into practice via the family garage, where he sought to address the product deficiencies he'd encountered. His vision called for a combination of sound design principles and reliable raw materials… a simple solution to an endemic problem. The concept was embraced when it hit the fledgling 4×4 market, and ARB – the initials of Anthony Ronald Brown – was founded.