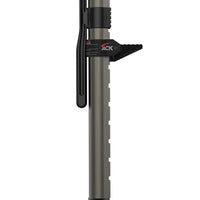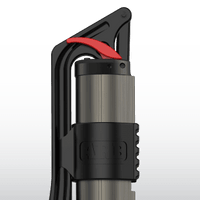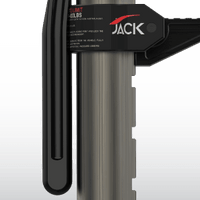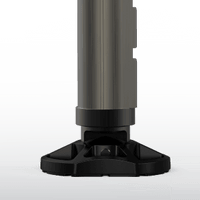 There's little doubt that the traditional farm jack is a handy piece of equipment to have when you're driving off road. You can use it to move your vehicle out of awkward situations, lifting vehicles to fill in voids beneath the tires or even as a bead breaker when you have to make a tire repair. But, as we all know, farm jacks can be dangerous. They're inherently unstable and there are countless YouTube videos of users getting injured from a rogue handle or getting their hands caught between the handle and the body of the jack. With this problem in mind, ARB's team of engineers was determined to come up with a better solution to the unsafe farm jack problem. The focus was to design a safer and easier mechanical jack while being lighter and more compact. Adding a new dimension to traditional techniques, the long-travel ARB JACK is backed by the unique power of hydraulic technology. Kicking into action when even the lightest force is applied to the handle, the hydraulics will smoothly jack the vehicle up at .5in increments with each downward maneuver. While in action, a black rubber body bumper shields the vehicle from risk of damage during the recovery. The easy-to-access red lowering lever ensures lowering the vehicle is achieved swiftly and safely thanks to the two-stage descent feature and safety stop. With the press of a lever, the user is able to adjust the lower speed between a slow or rapid descent.
The origins of ARB can be traced back to Australia's remote Top End, circa 1975. A region of vast distances and rugged terrain, it was fast becoming a Mecca for the nation's burgeoning 4WD community. However, the very environment that attracted 4 wheelers also wreaked havoc on their equipment – when driving in extreme conditions, only the best 4×4 accessories will do.
This was the conclusion drawn by Tony Brown during his travels at the time. While exploring the treasures of the Top End, the skills Tony gained from working on his Land Rover were regularly called on to mend damaged bull bars and broken roof racks. Bar work back then was crude, not at all suited to overland touring, and through this experience an idea was born – high quality equipment that met the vigorous demands of 4WD owners.
Upon returning to Melbourne, Tony put theory into practice via the family garage, where he sought to address the product deficiencies he'd encountered. His vision called for a combination of sound design principles and reliable raw materials… a simple solution to an endemic problem. The concept was embraced when it hit the fledgling 4×4 market, and ARB – the initials of Anthony Ronald Brown – was founded.