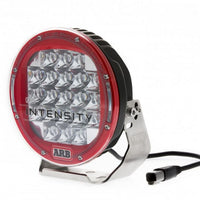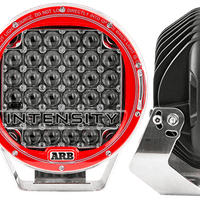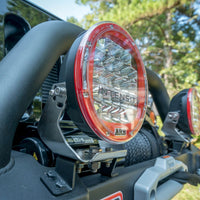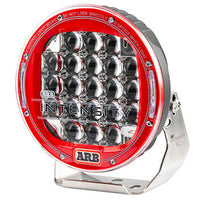 ARB - Intensity V2 21 LED Light
Description

Specifications
Engineered in Australia and manufactured in the United States, the ARB Intensity V2 LED light range has been specifically designed to meet the demanding requirements of off-roaders throughout the world. From producing white light that is the closest possible imitation of sunlight, to a virtually indestructible polycarbonate lens, these lights are the premium choice.

Unlike high-intensity discharge (HID) lights, the LED range does not require time to warm up and performs brilliantly on corrugated roads by producing a broad field of light that helps diffuse vibration.

Submersible to 10ft, compliant for radio interference suppression, the ARB Intensity LED lights have been vibration tested to military specifications to ensure they can withstand extended periods of heavy corrugations and extreme conditions to keep the road ahead brightly lit.

The Intensity V2 uses the same optimal chassis design as the previous generation, incorporating the latest in LED technology OSRAM GIANTS. The Intensity spot-light configuration uses advanced optics via the latest HyperspotTM technology. The Intensity flood-light configuration has been updated to spread the light further down the road. Pairing the spot and flood combination will give long-range visibility and shoulder-to-shoulder visibility.
Light Series: Intensity V2
Bulb Type: LED
Fitment: Universal Fit
Sold As: Single
Type: Driving Light
Light Shape: Round
Mounting Type: Surface
Raw Lumens: 13170
Watts: 105
Beam Pattern: Flood or Spot
The origins of ARB can be traced back to Australia's remote Top End, circa 1975. A region of vast distances and rugged terrain, it was fast becoming a Mecca for the nation's burgeoning 4WD community. However, the very environment that attracted 4 wheelers also wreaked havoc on their equipment – when driving in extreme conditions, only the best 4×4 accessories will do.
This was the conclusion drawn by Tony Brown during his travels at the time. While exploring the treasures of the Top End, the skills Tony gained from working on his Land Rover were regularly called on to mend damaged bull bars and broken roof racks. Bar work back then was crude, not at all suited to overland touring, and through this experience an idea was born – high quality equipment that met the vigorous demands of 4WD owners.
Upon returning to Melbourne, Tony put theory into practice via the family garage, where he sought to address the product deficiencies he'd encountered. His vision called for a combination of sound design principles and reliable raw materials… a simple solution to an endemic problem. The concept was embraced when it hit the fledgling 4×4 market, and ARB – the initials of Anthony Ronald Brown – was founded.