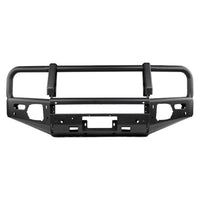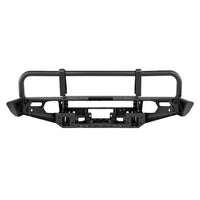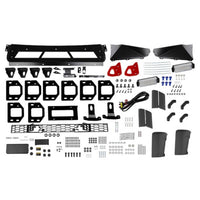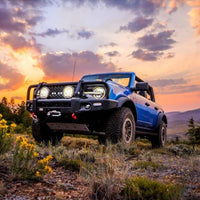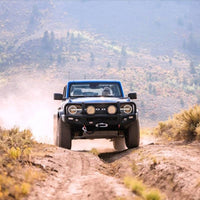 ARB - Ford Bronco Summit Winch Front Bumper | 2021+
The ARB summit bumper is designed as a full bumper replacement with 4WD use in mind. Compatible with winches up to 10,000lb, it provides needed off-road protection, twin jack points, and rated recovery points, while accommodating adaptive cruise control and parking sensors. The width of the summit bumper blends seamlessly into the vehicle design, complementing either wide or narrow fender flares.
Features

Compatible with winches up to 10,000lb
Durable, steel construction for maximum protection
Twin jack points located in lower pan to suit ARB Jack and mechanical jacks
Twin forged bar-mounted ARB Rated 8T recovery points
Wing design allows for a 37" tire to be fitted (suitable suspension lift and rim off set required)
Finished in Integrit black textured powder coat
EDP20 Ecoat under powder coat used for additional corrosion resistance
Approximate weight of the bumper, chassis mounts and fitting kit is 172lb
Suits the use of OE LED fog lights
Specifications

Position: Front
Color/Finish: Black Powder Coat
Material: Steel
D-Rings Mount: Yes
Winch Compatible: Yes
Sensor Cutouts: Yes
Light Mounts Included: Yes
Weight: 172 lb
The origins of ARB can be traced back to Australia's remote Top End, circa 1975. A region of vast distances and rugged terrain, it was fast becoming a Mecca for the nation's burgeoning 4WD community. However, the very environment that attracted 4 wheelers also wreaked havoc on their equipment – when driving in extreme conditions, only the best 4×4 accessories will do.
This was the conclusion drawn by Tony Brown during his travels at the time. While exploring the treasures of the Top End, the skills Tony gained from working on his Land Rover were regularly called on to mend damaged bull bars and broken roof racks. Bar work back then was crude, not at all suited to overland touring, and through this experience an idea was born – high quality equipment that met the vigorous demands of 4WD owners.
Upon returning to Melbourne, Tony put theory into practice via the family garage, where he sought to address the product deficiencies he'd encountered. His vision called for a combination of sound design principles and reliable raw materials… a simple solution to an endemic problem. The concept was embraced when it hit the fledgling 4×4 market, and ARB – the initials of Anthony Ronald Brown – was founded.