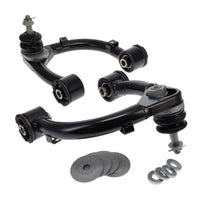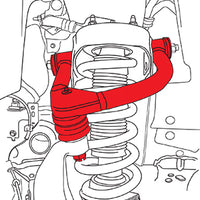 SPC - Ford Bronco Front Adjustable Control Arms | 2021+
Lifted trucks lose caster which wears tires and leads to wandering at high speeds. These adjustable front upper control arms improve droop travel, drivability and tire wear as well as adjusting tire position in your wheel well. Featuring a greaseable ball joint that can be replaced and rubber isolated xAxis™ bushings, these arms are designed to correct alignment angles while maintaining factory ride quality. SPC's tubular steel design provides the strength and durability needed for the most demanding environments. These remove and replace arms are sold in pairs.
With 80° of articulation in the ball joint and free pivoting cross axis bushings, SPC's arm gives you maximum droop travel and unbound articulation.

Get your drivability and tracking back: When you lift your truck you affect caster and camber. SPC's arms have +1° of caster built into them. Using its patented ball joint design the arm will get you ±2.0° of caster and ±2.0° of camber, so you can put your alignment angles back to specification.

Improve tire clearance: Use adjustment in the SPC arm and on the OE lower arm to maximize alignment angles and move oversized tires forward in the wheel well to minimize or avoid fender trimming.

Adjustment range: Camber/Caster ±2.0°
Specialty Products Company® (SPC) is the world leader in the development, manufacturing, and sales of wheel alignment parts. Branded Specialty Products for the traditional aftermarket and OE service divisions and SPC Performance® for the off-road, track, and enthusiast markets, SPC strives to offer wheel alignment solutions for every model and year of vehicle on the road.