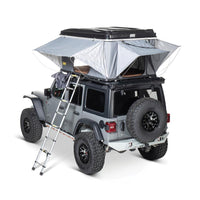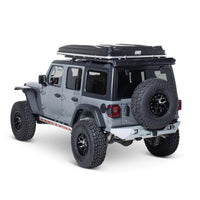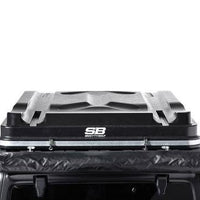 Smittybilt - Overlander Hard Shell Rooftop Tent
Description

Specifications

Instructions

Videos
The new Smittybilt Hard Shell Tent has been designed for the enthusiast who is looking for a low profile, durable and high value rooftop tent. This tent has the features needed for you to enjoy the outdoors and live anywhere with the ultimate off-road shelter.
Smittybilt |

Part Number: S/B2983

Fitment:Universal Fit
Sleep Capacity:3
Tent / Accessory:Tent
In 1956, Basil Smith, also known as "Smitty", started a small machine shop in his garage, called Rock-ett Products. Being one of the original four wheel drive enthusiasts, his chief concern was to develop four wheel drive equipment for trucks and small SUVs (Jeeps). Over the years, Smitty's son Tom worked at Rock-ett and then with the newly named "Smittybilt". Having been exposed to the four wheel drive lifestyle all his life, Tom was able to create new and innovative product ideas geared towards the growing off-road aftermarket industry.
As the business grew, Tom created more and more exciting new products including the original "Nerf Bar" side step and tubular front and rear bumpers for Jeeps.
Today, Smittybilt, Inc. proudly supplies thousands of active dealers and distributors worldwide with innovative truck and SUV accessories. Smittybilt has expanded its product offering to over 2,000 different products servicing the international truck and SUV markets. The constant involvement of management in the off-road markets has kept Smittybilt in touch with the latest market trends and on the forefront of engineering and design. Welcome to the new Smittybilt where innovation and quality are once again at the forefront of product development. "Get the Original", Get Smittybilt!