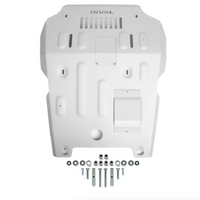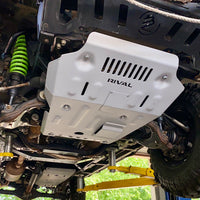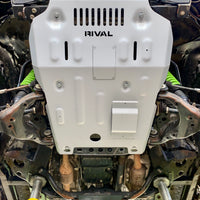 Rival - Aluminum 1/4 Inch Radiator and Engine Skid Plate | Toyota Tacoma 2016-2022
The high-quality laser cut RIVAL skid plates are made from deep stamped 1/4 inch aluminum alloy. This durable underbody armor offers both a lightweight and high strength solution for underbody protection. Combined with a no drill installation, it's an easy choice to protect underbody of your vehicle from rocks, logs and scrapes. Being an extremely corrosion resistant material aluminum will not rust even if the surface coating becomes gouged or scratched.
Key Features:

25 lbs Light Weight Alloy
Concealed fittings for minimum damage during off-road driving
Stiffening and reinforcing ribs for maximum strength
Polymer corrosion resistant powder coating which
No Drill Installation
Does not decrease ground clearance
Apertures for water and dirt drainage
Vent and airflow slots
Mounting Kit Included
Installation Time — 20 min
Required Tools — standard tool set
Shipping Weight, lb — 34
Material — 1/4-in.-Thick silver powder-coated aluminum
Application — Toyota Tacoma 2016-2022
Kit Contents:

A leading automotive accessories supplier with roots in more than 60 countries. Rival 4x4 is the manufacturer of the highest quality aluminum bumpers and automotive accessories on the market.