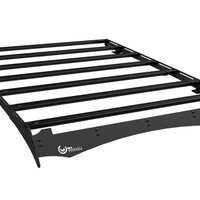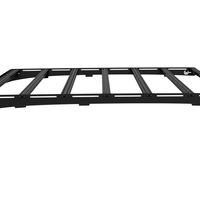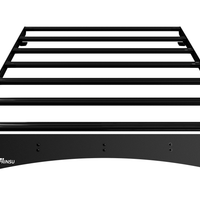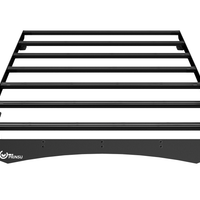 Prinsu - Toyota Tundra CrewMax Roof Rack | 2022+
Description

Featured Accessories

Lead Times
ALL PRINSU RACKS SHIP FREE!!
The 3rd Generation Toyota Tundra CrewMax Roof Rack is custom-engineered to fit the Toyota's newest Tundra model. These rugged racks are made from high-grade aluminum right here in the USA, so you know they're manufactured with care and confidence – and each one is designed for maximum durability and strength, without adding lots of weight. An optional wind deflector reduces noise and wind resistance to improve your driving experience, while an optional lightbar cutout allows you to add up to a 40" lighting setup of your choice. Each rack is fully-modular, offering the option to easily add and remove mounts, accessories, gear, and more. Installation is incredibly simple with a bolt-on setup. You'll look tough and drive tougher with this stellar roof rack setup on your roof. 
We now offer the Prinsu Rack in these Powder Coat options: Black, Grey, White, and Bare Aluminum for color matching. Don't forget to pair this with the Prinsu Shield Plate.
WILL NOT FIT WITH PANORAMIC SUNROOF
Panoramic sunroof option coming!
Lead time 2-3 weeks to ship

Sleek design

All aluminum construction

Wind Deflector compatible with 40" light bar available

High strength aluminum crossbars with drop points

Aerodynamic and quiet

Completely modular

Compatible with all 2022-present Crew Cab Tundra models 

Light weight

Drilling required
Additional Information
| | |
| --- | --- |
| WIND DEFLECTOR STYLE | Cutout for 40" Lightbars, Standard |
Toyota Tundra 3rd Gen CrewMax Roof Rack
| | |
| --- | --- |
| WEIGHT | 42 lbs |
| DIMENSIONS | 69.5 × 51 × 6 in |
| WIND DEFLECTOR STYLE | Cutout for 40" Lightbars, Standard |
Features Prinsu accessories for your rack!
Below are the current estimated lead times CBI & Prinsu products. Please contact us if you have any questions. 🤙
Prinsu Roof Racks -

1 Week
Accessories (brackets, mounts, etc.) -

1-2 Weeks
Skid Plates -

4-6 Weeks
Bed Racks -

4-6 Weeks
Bed Bars -

1-2 Weeks
DOM Rock Sliders -

6+ Weeks
Rock Sliders -

6+ Weeks
Steel Front Bumpers -

8-10 Weeks
Aluminum Front Bumpers -

4-6 Weeks
Rear Bumpers -

10-12 Weeks
Covert Bumpers -

5+ Weeks
We do our very best to get the product out in a timely manner. The estimated date provided on your order is just that, an estimate. It is not a guarantee that the product will be shipped on that date. The estimated date is given to provide some sense of how long the build process will take.
In the best cases, the lead time can be shorter however, in other cases lead times can be longer depending on the product and the number of products we build per run. Feel free to check on your order at any time.
Prinsu Design Studio manufacturers top quality roof racks for your adventure rig. Products include roof racks, bed rack, top racks, and bed bars. All their products carry a Limited Lifetime Warranty and are American made.