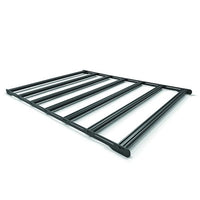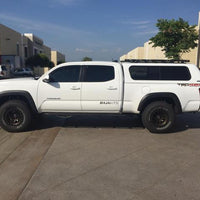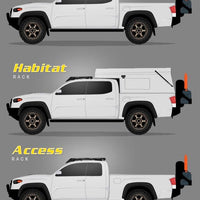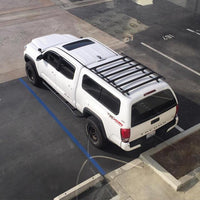 Prinsu - Toyota Tacoma Prinsu Top Rack - 2005-2020
Description

Featured Accessories

Lead Times
ALL PRINSU RACKS SHIP FREE!!
The Tacoma Top Rack is a modular, adjustable, and completely bolt together roof rack for fiberglass toppers such as Leer, A.R.E, and Snugtop that are equipped with Thule/Yakima tracks. Options are available to bolt racks directly to the topper but are not the preferred method. Models are available for both the short and long bed Tacoma models.
The rack consists of 2 laser cut side rails constructed of 3/16″ 5052 aluminum plate. These rails have 3-4 mounting tabs each that will allow you to bolt the rack to the Thule/Yakima tracks using the appropriate hardware. This design allows the addition of this roof rack without drilling or modification to your vehicle. The crossbars are made from a 2″ x 1″ aluminum extrusion that has a single top facing T-SLOT channel. This offers numerous solutions for tie-down options, cargo security, and the addition of accessories such as tool mounts or lighting. All product will come in black. All assembly hardware is included.
The rack is completely modular in that you choose how your rack is configured. You can also choose the number of crossbars you assemble your rack with. The short bed rack comes standard with 6 cross bars for cargo. The long bed rack comes standard with 7 cross bars.
Weight capacity of the racks varies based on the number of crossbars used and their configuration. We expect all consumers to use good judgment and common sense with the loads they plan to carry using these rack systems. The Toprac is limited by the weight capacity of the topper. Please consult the manufacturer of your topper for guidelines and capacities regarding the load capacity of your individual topper.
Features Prinsu accessories for your rack!
Below are the current estimated lead times CBI & Prinsu products. Please contact us if you have any questions. 🤙
Prinsu Roof Racks -

1 Week
Accessories (brackets, mounts, etc.) -

1-2 Weeks
Skid Plates -

4-6 Weeks
Bed Racks -

4-6 Weeks
Bed Bars -

1-2 Weeks
DOM Rock Sliders -

6+ Weeks
Rock Sliders -

6+ Weeks
Steel Front Bumpers -

8-10 Weeks
Aluminum Front Bumpers -

4-6 Weeks
Rear Bumpers -

10-12 Weeks
Covert Bumpers -

5+ Weeks
We do our very best to get the product out in a timely manner. The estimated date provided on your order is just that, an estimate. It is not a guarantee that the product will be shipped on that date. The estimated date is given to provide some sense of how long the build process will take.
In the best cases, the lead time can be shorter however, in other cases lead times can be longer depending on the product and the number of products we build per run. Feel free to check on your order at any time.
Prinsu Design Studio manufacturers top quality roof racks for your adventure rig. Products include roof racks, bed rack, top racks, and bed bars. All their products carry a Limited Lifetime Warranty and are American made.
Customer Reviews
David L.

United States
10/24/2021
Nice rack!
I already had a Prinsu Cab rack on my truck, but was using a Yakima rack on the truck cap. I finally decided to swap and I could not be happier. The installation instructions are completely non-existent. I mean, Prinsu doesn't do a video or provide any sort of paper or PDF instructions what-so-ever. I cannot believe such a successful company could get away with such an oversight. So, there are some ideas to think about: do you want extra feet or extra bars I recommend both. A third set of feet spreads the weight out more. One extra bar gives you more options and support. During installation, I followed one of the methods which was to build it on the roof. The reason for this was that my Thule tracks are pretty crooked (thanks a lot, Leer....). So, I wanted to make sure I could square the rack with my front rack. I installed the bars with the feet, then the side rails, and then the rest of the bars. Despite the ridiculous lack of instructions of any kind (*** Prinsu!), I still give this rack 5 stars. I was able to figure out which bag went with what and Prinsu only wasted an hour of my time during the install while I tried to figure everything out. Well made. Solid. Looks fantastic. Couldn't be happier.