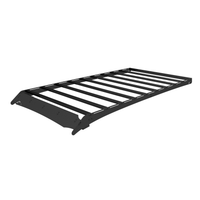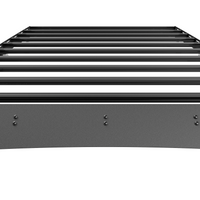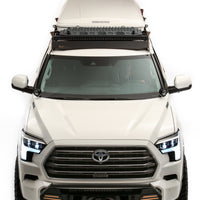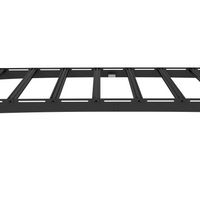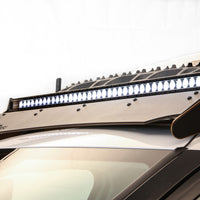 Prinsu - Toyota Sequoia Prinsu Roof Rack | 2023+
Description

Featured Accessories

Lead Times
The Toyota Sequoia Prinsu Rack is a modular, adjustable, and completely bolt together full-length roof rack for the all new 2023 Sequoia. Designed, engineered, and manufactured in America at our facility in Idaho Falls, Idaho. This rack consists of 2 laser cut side rails constructed of 1/4 inch 5052 aluminum plate. The aluminum low profile design means that you get a light weight, quiet, modular rack without compromising strength. You get to pick your rack setup, with the Prinsu Racks slotted side rails you can configure your Prinsu Rack to fit every need! The rack comes standard with 10 cross bars for cargo and 1 additional for mounting of a wind deflector, light bar or combination of the two.
Two piece design
No drilling required
Attaches to factory mounting in the middle and rear of the vehicle and via 3M VHB tape in the front.
Powder coated black
All Aluminum construction
Lightweight
Large platform area
Modular
Features Prinsu accessories for your rack!
Below are the current estimated lead times CBI & Prinsu products. Please contact us if you have any questions. 🤙
Prinsu Roof Racks -

1 Week
Accessories (brackets, mounts, etc.) -

1-2 Weeks
Skid Plates -

4-6 Weeks
Bed Racks -

4-6 Weeks
Bed Bars -

1-2 Weeks
DOM Rock Sliders -

6+ Weeks
Rock Sliders -

6+ Weeks
Steel Front Bumpers -

8-10 Weeks
Aluminum Front Bumpers -

4-6 Weeks
Rear Bumpers -

10-12 Weeks
Covert Bumpers -

5+ Weeks
We do our very best to get the product out in a timely manner. The estimated date provided on your order is just that, an estimate. It is not a guarantee that the product will be shipped on that date. The estimated date is given to provide some sense of how long the build process will take.
In the best cases, the lead time can be shorter however, in other cases lead times can be longer depending on the product and the number of products we build per run. Feel free to check on your order at any time.
Prinsu Design Studio manufacturers top quality roof racks for your adventure rig. Products include roof racks, bed rack, top racks, and bed bars. All their products carry a Limited Lifetime Warranty and are American made.