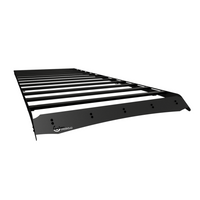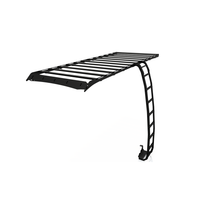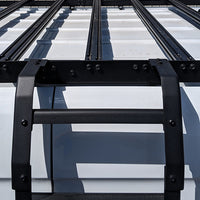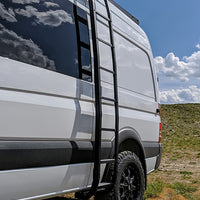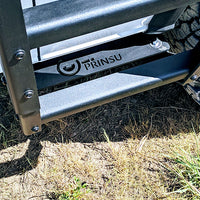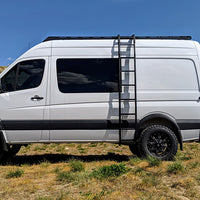 Prinsu - Sprinter Van 144 Roof Rack (2014-2020)
Description

Specifications

Sprinter Van Ladder

Featured Accessories

Lead Times
ALL PRINSU RACKS SHIP FREE!
The Sprinter van is an incredibly useful vehicle that brings a huge amount of utility to your overlanding and off-roading adventures. The trick with a sprinter van is to outfit the vehicle with the right parts to enhance its usability and create the PERFECT SETUP for whatever your adventures entail. For this reason, we have developed the Prinsu roof rack for the Sprinter van series.
Each Prinsu roof rack has several characteristics in common that make them the best roof racks on the market today. First, each rack is made entirely of aluminum and therefore is very lightweight! It's hard to find a room rack that even comes close to the feathery weight of a Prinsu rack! Secondly, Prinsu racks are completely modular and therefore offer an unlimited amount of mounting options and configurations to meet your needs. The hard part is to determine everything you want to mount to your roof rack! The last characteristic is the Prinsu roof rack is designed to fit the form of each vehicle it is mounted on. There aren't any "universal fits" when it comes to a Prinsu rack. The rack itself is form fitting to the room which provides the sleekest, most low profile roof rack available. When it comes to the aesthetics of a roof rack the Prinsu rack just can't be beaten!
*Ladder sold separately
Overall Length: 132"; Side Rail Height: 2-1/2"; Added Height: 2-1/2"; Clearance b/t Roof and Rack: 1-1/2"
*This product is 54" Wide and comes with 13 black 54" 2×1 crossbars and 1 clear 54" 2×1.
Sleek and low profile design
Abnormally low wind noise for a roof rack
Integrated wind deflector to reduce wind noise
Integrated light bar mounting with wind deflector

Keeps wind noise down
Stays true to the sleek and low profile design even when a light bar is mounted

All aluminum construction
Very lightweight (minimal weight added to vehicle)
Completely modular in layout and use of rack
Crossbars have integrated "drop points" for easy accessory mounting
Product powder coated in a satin black texture
Optional ladder available
*Ladder sold separately
Overall Length: 94" There are 9 rungs total with one being the bottom step and one being the very top mount to the vehicle.
Light weight all aluminum construction
Low profile and tight fitting design
Simple installation and integration with Prinsu rack
Bottom mounting to body or to aftermarket steps
No wind noise – even at freeway speeds
Product powder coated in a satin black texture
Features Prinsu accessories for your rack!
Below are the current estimated lead times CBI & Prinsu products. Please contact us if you have any questions. 🤙
Prinsu Roof Racks -

1 Week
Accessories (brackets, mounts, etc.) -

1-2 Weeks
Skid Plates -

4-6 Weeks
Bed Racks -

4-6 Weeks
Bed Bars -

1-2 Weeks
DOM Rock Sliders -

6+ Weeks
Rock Sliders -

6+ Weeks
Steel Front Bumpers -

8-10 Weeks
Aluminum Front Bumpers -

4-6 Weeks
Rear Bumpers -

10-12 Weeks
Covert Bumpers -

5+ Weeks
We do our very best to get the product out in a timely manner. The estimated date provided on your order is just that, an estimate. It is not a guarantee that the product will be shipped on that date. The estimated date is given to provide some sense of how long the build process will take.
In the best cases, the lead time can be shorter however, in other cases lead times can be longer depending on the product and the number of products we build per run. Feel free to check on your order at any time.
Prinsu Design Studio manufacturers top quality roof racks for your adventure rig. Products include roof racks, bed rack, top racks, and bed bars. All their products carry a Limited Lifetime Warranty and are American made.