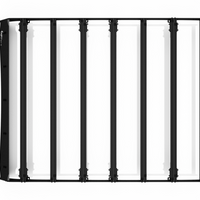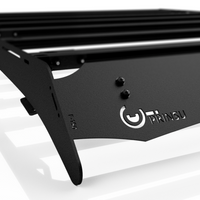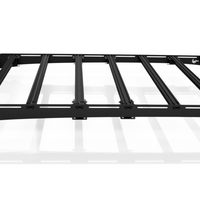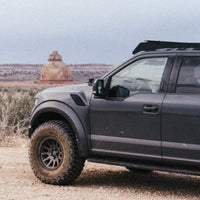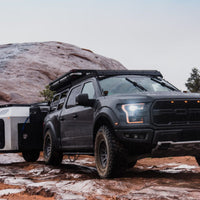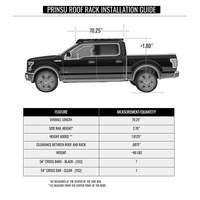 Prinsu - Ford Raptor Roof Rack | 2015-2018
Description

Specifications

Lead Times
ALL PRINSU RACKS SHIP FREE!
Ford Raptor / F150 Prinsu Roof Rack
2015-2018 Raptor and 2015-2017 F150
The Original Prinsu roof rack design has finally landed on the Ford lineup, starting with the Ford Raptor crew cab models. Each Prinsu rack includes our standard high strength aluminum alloy crossbars that are 20% stronger. They also include our unique "drop points" so that you can easily access mounting options and mount all of your gear on your truck. The wind deflector is also customizable to be either a standard option or go with the 50" cut out for your light bar. A unique feature to our Ford Raptor roof rack is that we have engineered this rack to be incredibly strong and structurally sound. This is due to (4) mounting feet per side and a specially designed mounting foot that is unique to the Ford Series roof rack. Drilling is required for installation but with our instructions and quality hardware it will be a snap! All racks come powder coated and include all necessary mounting hardware.

Prinsu original style and design
Low profile
High strength alloy crossbars
Integrated "drop points"
Aerodynamic and quiet
Full aluminum construction
Completely modular
Standard and 50" light bar wind deflector options
Sunroof compatible
Product powder coated in a satin black texture
| | |
| --- | --- |
| WEIGHT | 60 lbs |
| DIMENSIONS | 81 × 9 × 8 in |
| WIND DEFLECTOR TYPE | Cutout for 50" Lightbars, Standard |
| YEAR RANGE | 2015, 2016, 2017, 2018 |
| MAKE | Ford |
| MODEL | F-150, Raptor |
| CATEGORY | Roof Rack |
Below are the current estimated lead times CBI & Prinsu products. Please contact us if you have any questions. 🤙
Prinsu Roof Racks -

1 Week
Accessories (brackets, mounts, etc.) -

1-2 Weeks
Skid Plates -

4-6 Weeks
Bed Racks -

4-6 Weeks
Bed Bars -

1-2 Weeks
DOM Rock Sliders -

6+ Weeks
Rock Sliders -

6+ Weeks
Steel Front Bumpers -

8-10 Weeks
Aluminum Front Bumpers -

4-6 Weeks
Rear Bumpers -

10-12 Weeks
Covert Bumpers -

5+ Weeks
We do our very best to get the product out in a timely manner. The estimated date provided on your order is just that, an estimate. It is not a guarantee that the product will be shipped on that date. The estimated date is given to provide some sense of how long the build process will take.
In the best cases, the lead time can be shorter however, in other cases lead times can be longer depending on the product and the number of products we build per run. Feel free to check on your order at any time.