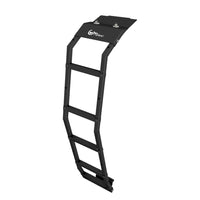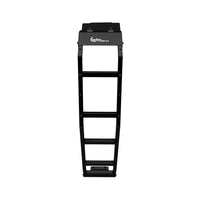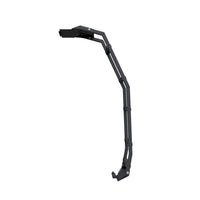 Prinsu - 5th Gen 4Runner Ladder
The all-new 5th Generation Toyota 4Runner Ladder is the perfect piece of gear to add rugged style and superior functionality to your vehicle. Weighing just 17 pounds, the 4Runner Ladder provides you greater access to your roof and its maximum storage capacity without adding much extra weight. The modular design allows you to mount additional accessories alongside it and working with it. High-grade metal construction with a high-quality black powder coat finish means this Ladder is designed for exceptional durability and strength, with each piece custom engineered to match the fit and feel of your 4Runner perfectly. Installation is super easy, with minimal assembly and drilling required. Order yours today. You definitely won't be disappointed in the added convenience of this excellent overlanding and off-roading tool.

Modular design 

Welded square tubing sides

Formed sheet metal rungs

Easy install 

Assembly required 

Powder-coated black

Drilling on the underside of the hatch required

Lightweight
Below are the current estimated lead times CBI & Prinsu products. Please contact us if you have any questions. 🤙
Prinsu Roof Racks -

1 Week
Accessories (brackets, mounts, etc.) -

1-2 Weeks
Skid Plates -

4-6 Weeks
Bed Racks -

4-6 Weeks
Bed Bars -

1-2 Weeks
DOM Rock Sliders -

6+ Weeks
Rock Sliders -

6+ Weeks
Steel Front Bumpers -

8-10 Weeks
Aluminum Front Bumpers -

4-6 Weeks
Rear Bumpers -

10-12 Weeks
Covert Bumpers -

5+ Weeks
We do our very best to get the product out in a timely manner. The estimated date provided on your order is just that, an estimate. It is not a guarantee that the product will be shipped on that date. The estimated date is given to provide some sense of how long the build process will take.
In the best cases, the lead time can be shorter however, in other cases lead times can be longer depending on the product and the number of products we build per run. Feel free to check on your order at any time.