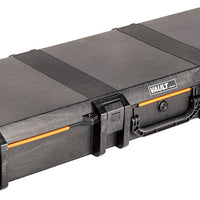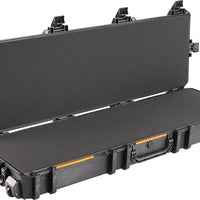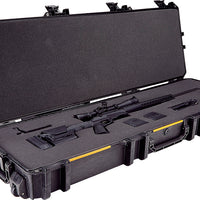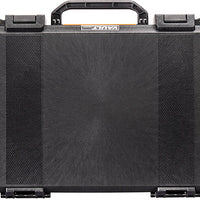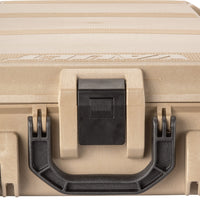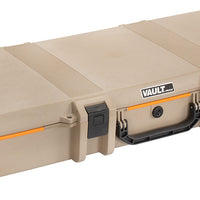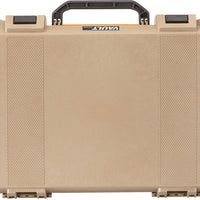 Pelican - V800 Vault Double Rifle Case
Description

Specifications
Built for hard use, high impact and supreme weather resistance, new Vault series gun cases are the most rugged and secure in their class. Equipped with a host of premium protective features at a price more hunters and shooters can afford, as only the 42-year veteran of hard knocks could deliver.
Features
Six push button latches offer secure closure with easy-open access
Four stainless steel lock hasps afford extra security during transport
Carry two scoped rifles with absolute confidence
High-impact polymer assures protection of your firearm, via road, trail or air
Crushproof, dustproof, and weather resistant
Heavy duty handles are ergonomic and will stand up in even the toughest conditions
Five layers of protective foam
Interior (L×W×D) - 53.00 x 16.00 x 6.00 in (134.6 x 40.6 x 15.2 cm)
Exterior (L×W×D) - 56.11 x 19.15 x 6.65 in (142.5 x 48.6 x 16.9 cm)
Lid Depth - 1.57" (4 cm)
Bottom Depth - 4.43" (11.3 cm)
Total Depth - 6" (15.2 cm)
Int Volume - 2.94 ft³ (0.083 m³)
Padlock Hole Diameter - 5/16" (8 mm)
Weight With Foam - 24.95 lbs (11.3 kg)
Weight Empty - 19.60 lbs (8.9 kg)
Wheels - 2
Body Material - Polyethylene

Latch Material - ABS

O-Ring Material - Polymer

Pins Material - Stainless Steel

Foam Material - 1.3 lb Polyurethane

Purge Body Material - ABS

Purge Vent Material - 3 Micron Hydrophobic Non-Woven

Minimum Temperature - 0° F (-18 ° C)

Maximum Temperature - 140° F (60 ° C)
It all began in 1976 with a hundred feet of twine around a hockey stick handle and a metal weight to serve as a mini anchor. Fashioned by scuba enthusiast Dave Parker in his garage in Torrance, CA, this innovative safety tool was designed to bob on the water's surface to mark locations for divers. Dave dubbed his brainchild the "Pelican Float." He devised this gadget because he knew it had the potential to save lives. He was right.
Eager to expand upon his vision, Dave was soon hard at work designing his next product: a superior first-aid kit for divers. The cases were rugged, durable, and built to keep the contents stored inside safely protected from water and dust. The product was a hit with divers and others who tossed out the first-aid supplies and used the case to protect other valuables.
From this humble beginning sprang a company that ultimately became the global leader in the design and manufacture of high-performance protective cases, temperature controlled packaging and advanced portable lighting systems. All along the way, Pelican has stayed true to Dave's commitment to quality and his vision: Protecting All That You Value. We take great pride in the products we've created over the years for police, firefighters, military personnel, photographers and others who have counted on Pelican products to protect their gear and their lives.