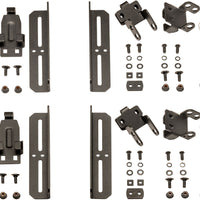 Pelican - RFMT2 Cargo Case Roof Mount Kit
Use Vehicle Mounting Kits for your Pelican™ Cargo cases to expand your storage possibilities. Whatever your cargo needs are - we have a solution for your roof racks. Mounting kits are available for most aftermarket T-slot aluminum platform racks or tubular basket racks. No drilling required. Locks to vehicle securely with a padlock (not included) on one or both sides of case and can be removed in seconds.

Kit Includes:

4x MOUNTING BRACKET
2x PINNED YOKE
2x FIXED HOOK
2x CASE PLATE CLAMP
2x QUICK-RELEASE PIN
COMPATIBILE WITH

BX140R Cargo Case
BX55S Cargo Case
BX85S Cargo Case
BX90R Cargo Case
It all began in 1976 with a hundred feet of twine around a hockey stick handle and a metal weight to serve as a mini anchor. Fashioned by scuba enthusiast Dave Parker in his garage in Torrance, CA, this innovative safety tool was designed to bob on the water's surface to mark locations for divers. Dave dubbed his brainchild the "Pelican Float." He devised this gadget because he knew it had the potential to save lives. He was right.
Eager to expand upon his vision, Dave was soon hard at work designing his next product: a superior first-aid kit for divers. The cases were rugged, durable, and built to keep the contents stored inside safely protected from water and dust. The product was a hit with divers and others who tossed out the first-aid supplies and used the case to protect other valuables.
From this humble beginning sprang a company that ultimately became the global leader in the design and manufacture of high-performance protective cases, temperature controlled packaging and advanced portable lighting systems. All along the way, Pelican has stayed true to Dave's commitment to quality and his vision: Protecting All That You Value. We take great pride in the products we've created over the years for police, firefighters, military personnel, photographers and others who have counted on Pelican products to protect their gear and their lives.