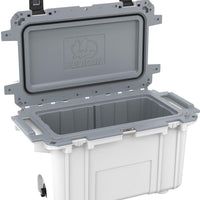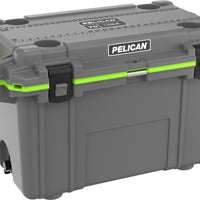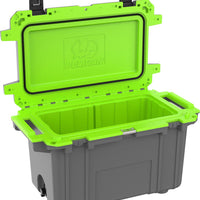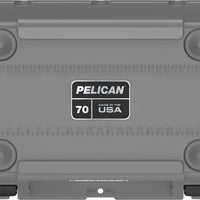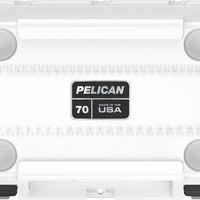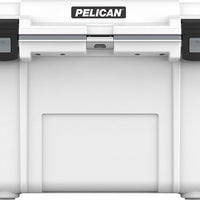 Pelican - 70QT Elite Cooler
Description

Specifications
Pelican Products, Inc. has protected defense, emergency and scientific expedition equipment through some of the harshest conditions on Earth since 1976. This same DNA is now available to you in Pelican™ Elite Coolers.

We hold ourselves to higher criteria than other cooler makers. When it comes to durability, performance and ergonomic design, just "good enough" doesn't cut it. As a result, Pelican™ Elite Coolers perform to higher standards — better than any cold locker, tougher than any icebox. Pelican™ Elite Coolers are true next-generation innovations, created to last a lifetime.

From the latches to the freezer-grade seal to the toughest handles in the business, every part is engineered to our extreme durability and performance standards. Which is why we feel confident in providing you with a Lifetime Guarantee. Not three years. Not five years. A lifetime. Something the other makers don't (or can't) do.

Whether you're on the hunt of a lifetime, far out at sea with a cooler full of catch, crossing deserts on safari or simply tailgating during a big game – the Pelican™ Elite Cooler is the one for you.

Extreme ice retention
Fish Ruler
Press & Pull Latches
Integrated Cup Holders
Built-in Bottle Opener
Non-Skid & Non-Marking Raised Feet
Molded-In Lock Hasp, Stainless Steel Plate
Tethered Threaded Plug & Sloped Drain
Guaranteed for life
Exterior Dimensions: 36"W x 20.3"D x 21"H
Interior Dimensions: 23.5"W x 11"D x 14.30"H
Insulation Thickness: 2"
Weight: 33.29 lbs.
Body, Handle, & Spigot Material: Polypropylene
Insulation Material: Polyurethane Foam
Hardware Material: Stainless Steel
Latch Material: ABS
Made in the USA
It all began in 1976 with a hundred feet of twine around a hockey stick handle and a metal weight to serve as a mini anchor. Fashioned by scuba enthusiast Dave Parker in his garage in Torrance, CA, this innovative safety tool was designed to bob on the water's surface to mark locations for divers. Dave dubbed his brainchild the "Pelican Float." He devised this gadget because he knew it had the potential to save lives. He was right.
Eager to expand upon his vision, Dave was soon hard at work designing his next product: a superior first-aid kit for divers. The cases were rugged, durable, and built to keep the contents stored inside safely protected from water and dust. The product was a hit with divers and others who tossed out the first-aid supplies and used the case to protect other valuables.
From this humble beginning sprang a company that ultimately became the global leader in the design and manufacture of high-performance protective cases, temperature controlled packaging and advanced portable lighting systems. All along the way, Pelican has stayed true to Dave's commitment to quality and his vision: Protecting All That You Value. We take great pride in the products we've created over the years for police, firefighters, military personnel, photographers and others who have counted on Pelican products to protect their gear and their lives.