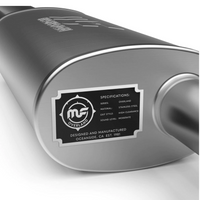 Magnaflow - Toyota Tundra Overland Series Cat-back Performance Exhaust | 2022+
The MagnaFlow Overland Series weight optimized performance exhaust system features MagnaFlow's renowned deep rumble and dyno-proven performance with a high-clearance no-tip exit that allows for significantly improved ground clearance and departure angles.
EXPLORE FURTHER
Take the trail less traveled in your Tundra thanks to the improved ground clearance and departure angles of the Overland Series.
CAMP-FRIENDLY SOUND
MagnaFlow's versatile tuning and No Drone Technology ensure comfort on long drives over any terrain while still bringing out the individual character of your capable Toyota.
TRAIL-PROVEN PERFORMANCE
No matter the obstacle, MagnaFlow's dyno-proven performance will be there to back you up and help offset the additional weight of your truck's gear.

COMMITMENT TO COMMUNITY
At MagnaFlow, we understand the importance of protecting our shared outdoor spaces. That is why we will be planting a tree for every Overland Series product sold with our partners at the National Forest Foundation.
MagnaFlow got its start as a natural extension of Car Sound Exhaust, the parent company to MagnaFlow. Car Sound Exhaust specializes in superior catalytic converter and performance exhaust technology, and has been doing so for the past 35+ years, earning their reputation as an international market leader. In addition to the MagnaFlow brand, Car Sound Exhaust also represents Rumble and BRExhaust, further cementing the company as an industry leader in all areas of replacement and performance exhaust.