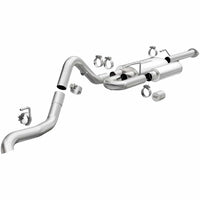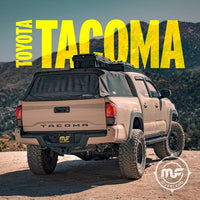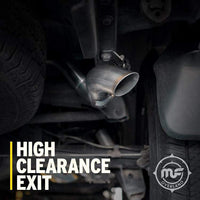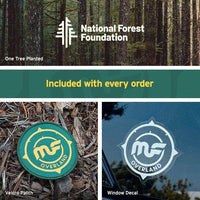 MagnaFlow - Toyota Tacoma Overland Series Cat-Back Performance Exhaust System | 19583
The MagnaFlow 3rd Gen Toyota Tacoma Overland Series Cat-Back Performance Exhaust System #19583 brings MagnaFlow's signature deep rumble and dyno-proven performance to your overland 3rd generation (2016-2021) Toyota Tacoma. Each exhaust kit's weight is optimized to improve utility, while the mandrel bent 3" piping and single straight-through muffler are tucked up closer to the body of the vehicle. Together with a no-tip, high-clearance, passenger-side rear exit, these upgrades improve the ground clearance and utility of your Toyota Tacoma. MagnaFlow exhaust kit #19583 features a built-in No Drone Technology (NDT) resonator, which eliminates unwanted interior noise by cancelling out the natural droning frequencies that your Tacoma produces at highway speeds. MagnaFlow's NDT resonator does all this while retaining the characterful exhaust tone of your truck's motor. Each #19583 exhaust system was engineered with the most popular bolt-on modifications in mind, making compatibility and seamless integration into your existing rig a breeze. CNC precision robotic manufacturing allows for perfect fitment and hassle-free, bolt-on installation. Each exhaust kit features durable 100% stainless steel construction backed by MagnaFlow's limited lifetime construction warranty.
Specifications
Type: Cat-Back
Series: Overland
Main Piping Diameter: 3"
Exit Style: Single Passenger Side Rear
Inlet Connection Type: Bolt-On
Muffler Quantity: 2
Muffler Finish: Satin
MagnaFlow got its start as a natural extension of Car Sound Exhaust, the parent company to MagnaFlow. Car Sound Exhaust specializes in superior catalytic converter and performance exhaust technology, and has been doing so for the past 35+ years, earning their reputation as an international market leader. In addition to the MagnaFlow brand, Car Sound Exhaust also represents Rumble and BRExhaust, further cementing the company as an industry leader in all areas of replacement and performance exhaust.