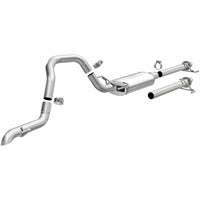 MagnaFlow - Overland Series Cat-Back Performance Exhaust System | 19544
The MagnaFlow Overland Series Cat-Back Performance Exhaust System #19544 for the Lexus GX470 (2003-2009), GX460 (2010-2021) and Toyota 4Runner V8 (2003-2009) adds MagnaFlow's signature deep tone and dyno-proven performance to your overlanding rig. The weight optimized exhaust system's mandrel bent 2.5" tubing and single, straight-through muffler are designed to fit higher up in the undercarriage than the stock exhaust configuration. Combined with a single, high-clearance, no-tip, passenger-side exit, these features ensure improved ground clearance and utility. This MagnaFlow exhaust system was developed with versatility in mind in order to be seamlessly compatible with the most popular bolt-on aftermarket applications. Thanks to MagnaFlow's No Drone Technology, exhaust kit #19544 is specifically engineered to bring out the natural character of your rig's motor while minimizing the natural droning frequencies created at cruising speeds. As a result, this exhaust system is as well-mannered on long drives to overlanding locales as it is excellent at improving off-roading capability with improved ground clearance and departure angles. The durable 100% stainless steel construction and CNC precision robotic manufacturing used by MagnaFlow #19544 ensures easy bolt-on installation and seamless compatibility, all covered by MagnaFlow's limited lifetime construction warranty.
Specifications
Type: Cat-Back
Series: Overland
Main Piping Diameter: 2.5"
Exit Style: Single Passenger Side Rear
Inlet Connection Type: Bolt-On
Muffler Quantity: 1
Muffler Type: Straight-Through
Muffler Finish: Satin
MagnaFlow got its start as a natural extension of Car Sound Exhaust, the parent company to MagnaFlow. Car Sound Exhaust specializes in superior catalytic converter and performance exhaust technology, and has been doing so for the past 35+ years, earning their reputation as an international market leader. In addition to the MagnaFlow brand, Car Sound Exhaust also represents Rumble and BRExhaust, further cementing the company as an industry leader in all areas of replacement and performance exhaust.