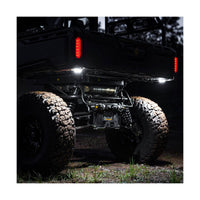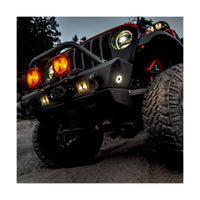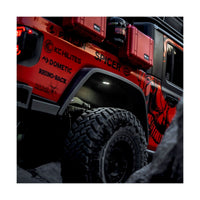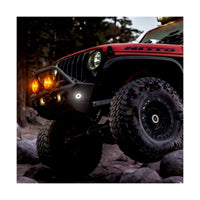 KC HiLiTES - Cyclone V2 LED 6-Light - Rock Light Kit
Lead Times are approximately 3 weeks.
Cyclone V2 LED 6-Light Universal Rock Light Kits are an all-in-one underbody lighting solution for your off-road vehicle. Every kit features six powerful 5W Cyclone LEDs and a centralized fuse block for easy wiring. These Cyclone kits are available in various colors to suit your lighting need. This multifunctional LED rock light kits come in 2 variations: Clear and Amber
FEATURES

Various Vehicle Applications

Easy Plug-N-Play Installation

Includes various brackets for different fitment needs

2 Lens Color Variations: Clear, or Amber
AVAILABLE COLORS AND OPTIONS

91040 - Cyclone V2 LED - Rock Light - 6-Light System - Clear - 5W Flood Beam

91041 - Cyclone V2 LED - Rock Light - 6-Light System - Amber - 5W Flood Beam
LIGHT PERFORMANCE


SPECIFICATIONS

Wattage: 5W

LED Source: 15 x Samsung SMD 3035 LED

Amp Draw: 0.40A

Voltage: 9V-16V

IP Rating: IP68

Dimensions: D - 0.53" x W - 2.20"

PARTS INCLUDED
Complete Cyclone V2 LED 6-light rock light kit with Cyclone Lights, Premium fuse block with ground post and switch, 6 Deluxe Wiring Harnesses (2 x 16ft, 2 x 11ft, 2 x 8ft), Universal mounts with installation hardware

PERFORMANCE OUTPUT AND CLARITY
Cyclone V2 LEDs are a multi-functional and compact auxiliary LED lighting solution. Originally designed for Off-Road Racers as an interior dome light, the Cyclone LED light has evolved into an all-purpose light for rock crawling. With their compact 2.2" diameter, flat 0.53" height, and bright flood pattern they are perfect for undercarriage lighting for off-roading at night.

FLOOD BEAM PATTERN
The Cyclone V2 LED comes in a flood beam pattern to provide a large pattern of light by utilizing an infinite vertical and horizontal beam pattern. This delivers ample illumination over short distances.

DESIGNED FOR DURABILITY
Off-road race tested, the Cyclone V2 LED was designed to handle the harshest environments. Featuring an IP68 rated housing, the Cyclone V2 LED kit is resistant to moisture and dust.
For over 50 years, the KC brand has been a symbol of outdoor freedom, adventure, quality, and performance. We take features engineered for off-road racing and design them into unique lighting and adventure products used by those who have a thirst for the paths less traveled. We stand for the outdoor enthusiasts - from off-roaders to hikers to mountain bikers and anyone in-between - because that's who we are, and we make products to allow us all to adventure further.