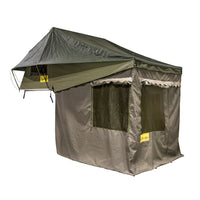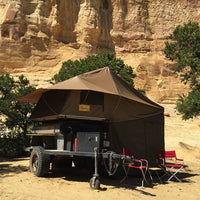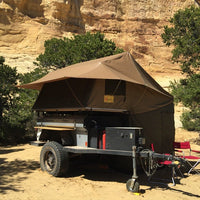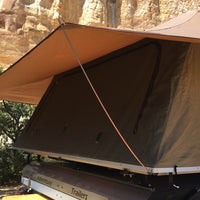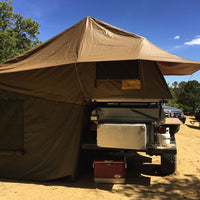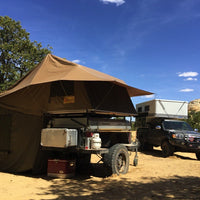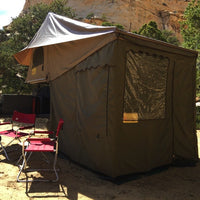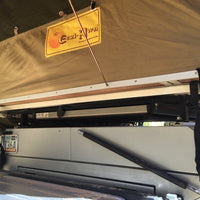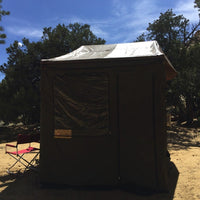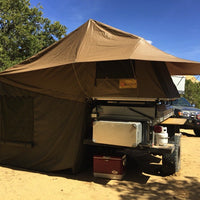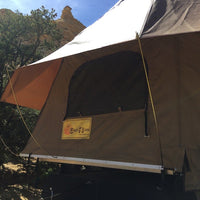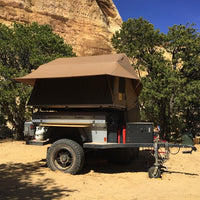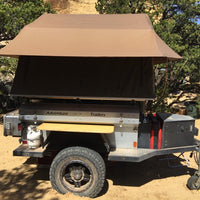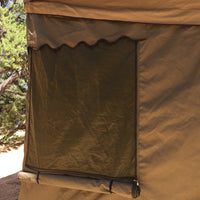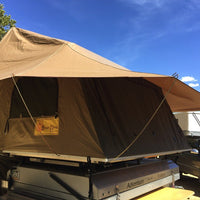 Eezi-Awn - Globe Tracker Trailer Tent
Description

Specifications

Shipping
Click here for our Shipping Policy for Lead Times
The all new Eezi-Awn Globe Tracker is the ultimate in trailer tent luxury. It is made using the same design foundation as the legendary Series 3 models, but offers a few changes that make it perfect for trailers with lower heights (62" (1600mm) minimum) or the bed of your truck.
Features
Vertical Mesh & Privacy Panels Separate Elevated Mattress from Ground-Level Room
Large Ground-Level Changing Room
Series 1000 Awning Integrated into Roofline 
1 External Door with Mesh & Privacy Panels
2 Large Mattress-Level Windows with Mesh & Privacy Panels
2 Large Window Shades
4 Pockets Under Windows
3-1/4" Thick Hi-Density Foam Mattress Covered in African-Printed Fabric
Ratchet Strap Incorporated into Cover
Storage Bag for Walls & Ground Cover 
Construction
Single-Piece Sleeping Platform 
Dual-Level Enclosed Structure 
Trailer-High Mounting
Door-Entry Height of 6+ Feet 
Angled Roofline Provides Same Door Entry Height 
420 gram Poly-Cotton Canvas Woven with Impregnated Heavy-Duty Wax Thread
50/50 Poly-Cotton Ripstop Weave
80% Mesh Screen with Trapezoidal Microfiber
Colorfast Dye 
Double Stitched Throughout with Wax-Coated Cotton Thread
Heavy-Duty Anodized Aluminum Extrusions
Stainless Steel Hardware 
Polyurethane-Encased Hardwood Panels
Spring Steel Rainfly & Window Rods
Patented Anodized Aluminum Extension Ladder
Nylon Reinforced Clips
YYK© Zippers
Elevated PVC Rainfly with Reinforced Rainfly Mounts
Full-Time Tent Peak Ventilation
700 Denier PVC Roof Tent Cover with Welded Seams & 5 year UV-rating
Globe Tracker vs Series 3 : The Similarities
Both tents are made by the same great craftsmen at Eezi-Awn's factory.
The sleeping platforms are made of the same material.
The netting used in all the windows and doors is the same weight and density.
Both models utilize YKK© zippers.
They both offer the same thickness PVC rainfly material.
The material in the PVC covers is the same, too.
The ladders are identical.
Both models can be used on the roof of a vehicle or trailer.
Globe Tracker vs Series 3 : The Differences
You may be asking yourself, "Why can't I use a Roof Top Tent on my trailer?" and that's a great question. This is where the Globe Tracker Trailer Tent shines. A trailer by default is shorter in height than the roof of a vehicle. While some roof top tents are compatible, such as the Series 3 or Jazz, others, like the XKLUSIV T-Top or Fun, would sit too low; as a result, the door height is sacrificed by multiple feet and the wall panels will leave material dragging on the ground, shortening the tent's overall life. There is also a ground cover, not attached to the wall set, made from very thick PVC mesh that lays on the ground over the attached floor piece, providing a good seal between the wall and the floor. It cleans quickly with a good shake and doesn't dirty up the rest of the tent when being stored.
The Globe Tracker was specifically designed to solve these problems by creating extrusions on an elevated angle (10-degree pitch), not a flat roofline, so that the walk-in door remains at the 6'4" height and the wall panels don't drag. This design is also particularly nice because the bed doesn't require folding, allowing the mattress to be 50% thicker than others. Despite that the Series 3 or Jazz could be used on a trailer, neither of these models can accommodate an Add-A-Room, an additional 470 square feet of enclosed space, making the Globe Tracker an even more ideal option. The overall result is a spacious two level tent that can sleep 4 adults comfortably. It requires the support of at least 3 load bars and can be mounted for entry from either side of your trailer.
Dimensions

Closed: 83" L x 59" W x 7" H  |  2100mm L x 1500mm W x 1850mm H


Open (Includes Ground-Level Room) : 83" L x 152" W x 118" H  |  2100mm L x 3800mm W x 1500mm H


Ground-Level Room : 83" L x 93" W  |  2400mm L x 1500mm W

Weight (Including Ladder)
165 lbs  |  75 kg
Mattress
Queen
SIGNATURE
You spent money on it and we want to ensure its safe delivery. All of our shipments are delivered with a required signature unless otherwise specified. Please contact us if you would like to remove this feature from your order. This service is complimentary.
LARGE ITEMS
Please be aware that larger items, including Eezi-Awn tents and racks, which are too large for traditional ground shipping, will require truck freight for delivery, and custom items shipping internationally are not eligible. We offer Free Domestic Shipping on these items to a commercial address. Roof Top Tents will require a loading dock or fork lift or a freight terminal close by for pick up. Roof Racks will require the ability to receive a large platform box; however Rack Feet and Rack Rail can be shipped to your residence. If you order a tent or rack from our website, contact us by phone or email and we will work with you to secure the most economical delivery of your product we can.
RESIDENTIAL
If you plan to ship to a residential address and the product is authorized to ship to a residential address, you will be charged an additional fee which is not automatically applied at checkout. Please write "Residential" in the notes section and we will contact you with a quote. If you do not make this denotation, you are responsible for all related fees and potentially the original shipping charge.
There are good reasons why Eezi-Awn is one of the largest manufacturers of RECVEE (Recreational Vehicle) Equipment which includes our rooftop tents, camping & vehicle awnings, K9 roof racks and roof rack accessories.
Since its inception in 1983 the name Eezi-Awn has long been synonymous with quality Rooftents, Rooftop Tents, Retractable Camping Awnings, Fridge Sliders, Roof Racks and Roof Rack Accessories. Eezi-Awns dedication for exceptional service is evident in all the equipment we produce, sell locally and export to many countries around the world.