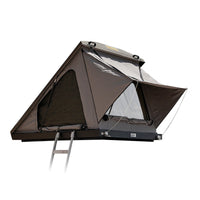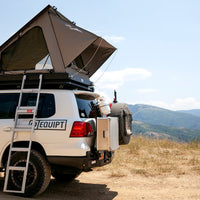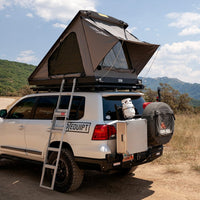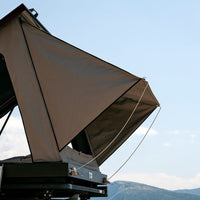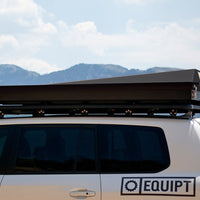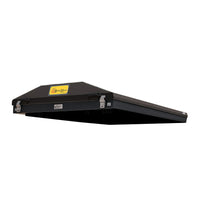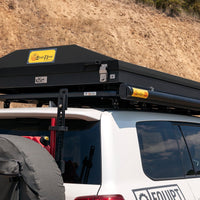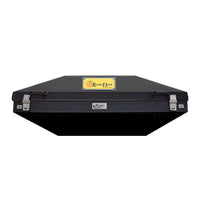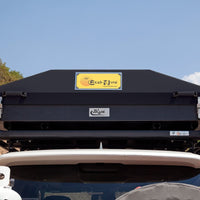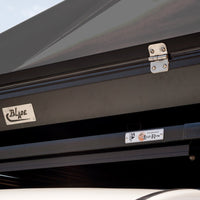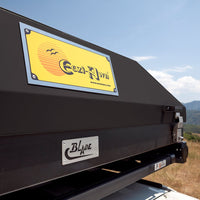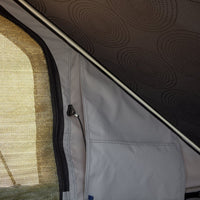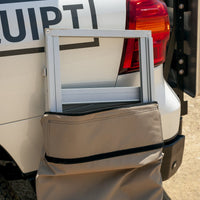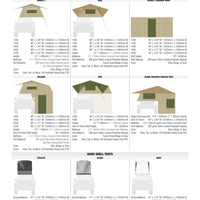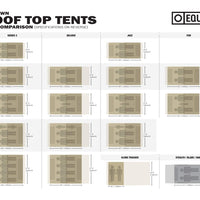 Eezi-Awn - Blade Hard Shell Roof Top Tent
Description

Specifications

Shipping
Click here for our Shipping Policy for Lead Times
With decades of proven experience on every major continent, Eezi-Awn's fabric tents have consistently outperformed the competition and set the industry's benchmark for both durability and performance. Last year they set another standard with the Stealth--a matte black powder-coated, all-aluminum hard shell roof top tent. Meet the Stealth's younger brother--the Blade.
In almost every regard, the Blade is a replica of the Stealth. The differences are subtle, but for some, will matter the most. The two-tone color scheme is the most evident difference. You will also notice that the shape is slightly smaller as the Blade is a hinge design with two latches as opposed to the Stealth's scissor lift with four latches (which adds extra foot room). Lastly, the included XKLUSIV Ladder comes with a built-in extension and stores cleanly inside the tent, as opposed to underneath it. Other than that, you are guaranteed another superb product.
Features
Triple Entry with Privacy Mesh Panels
270-Degree Viewing
Low Profiled Aerodynamic Design
Automated Setup & Takedown
Hook & Loop Solid & Mesh Panel Management
Internal Storage Pockets
National Luna LED Light on Interior Roof
12V Power Supply Socket (Supply Cord Included)
Two Handles
Lockable Stainless Steel Latches
Assistance Strap for Lowering Roof
Internal Gas Struts
Rear Rain Fly Opening with Spring Steel Rain Fly Rods
Insulated Roof & Floor
Elevated Roof Rear Accommodates Bedding Storage
Built-In Double-Size Mattress
Includes XKLUSIV Ladder With Built-In Extension (Stores Inside Tent & Can Be Used On All Three Entry Ways)
Includes Ladder Bag
Accommodates 2 Adults
In addition to the standard expectations, the Blade, albeit simplistic and compact, is still rich with features. Encased in the uniquely-shaped body is room for bedding storage. Upon opening, the walls of the tent are built from durable, rip-stop canvas with double entry privacy mesh panels, and both the roof and floor are insulated  to keep you comfortable throughout the night. Much of the appeal that comes from a hard shell roof top tent is the quick setup and takedown, and the Blade is no exception. A single person can quickly unclip only two latches and easily lift to open, then push down gently to close and lock. The full process takes only seconds to complete.
Construction
Lightweight Aluminum Body
Powder-Coated Matte Black
Stainless Steel Hardware
260 gram Teflon-coated Polyester Ripstop Material
80mm Thick Laminated Mattress
Four Mounting Rails on Bottom of Tent
Four-Point DIY Mounting Hardware Set
Patented Anodized Aluminum Extension Ladder
YKK© Zippers
Discover for yourself how legendary performance meets modern design in Eezi-Awn's brand new Blade. 
Dimensions

Closed Footprint : 87" L x 57" W  |  2200mm L x 1450mm W
Closed Front Height : 6.5" H  |  165mm
Closed Back Height : 13" H  |  320mm H
Open Back Height : 56" H  |  1400mm H
Built-In Mattress : 84" L x 52" W x 3" H | 2135mm L x 1320mm W x 80mm H
Max Mounting Height: 84" | 2130mm

Weight (Including Ladder)

175 lbs  |  80 kg

Mattress
Double
SIGNATURE
You spent money on it and we want to ensure its safe delivery. All of our shipments are delivered with a required signature unless otherwise specified. Please contact us if you would like to remove this feature from your order. This service is complimentary.
LARGE ITEMS
Please be aware that larger items, including Eezi-Awn tents and racks, which are too large for traditional ground shipping, will require truck freight for delivery, and custom items shipping internationally are not eligible. We offer Free Domestic Shipping on these items to a commercial address. Roof Top Tents will require a loading dock or fork lift or a freight terminal close by for pick up. Roof Racks will require the ability to receive a large platform box; however Rack Feet and Rack Rail can be shipped to your residence. If you order a tent or rack from our website, contact us by phone or email and we will work with you to secure the most economical delivery of your product we can.
RESIDENTIAL
If you plan to ship to a residential address and the product is authorized to ship to a residential address, you will be charged an additional fee which is not automatically applied at checkout. Please write "Residential" in the notes section and we will contact you with a quote. If you do not make this denotation, you are responsible for all related fees and potentially the original shipping charge.
There are good reasons why Eezi-Awn is one of the largest manufacturers of RECVEE (Recreational Vehicle) Equipment which includes our rooftop tents, camping & vehicle awnings, K9 roof racks and roof rack accessories.
Since its inception in 1983 the name Eezi-Awn has long been synonymous with quality Rooftents, Rooftop Tents, Retractable Camping Awnings, Fridge Sliders, Roof Racks and Roof Rack Accessories. Eezi-Awns dedication for exceptional service is evident in all the equipment we produce, sell locally and export to many countries around the world.