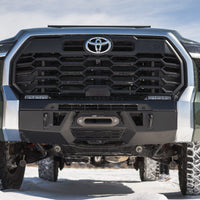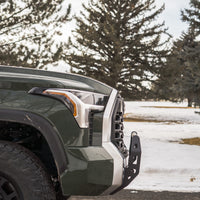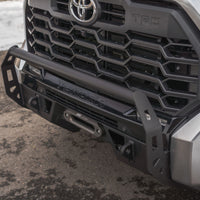 CBI - Toyota Tundra Covert Front Bumper | 3rd Gen | 2022+
Description

Specs

Lead Times
The 3rd Generation Toyota Tundra Covert Front Bumper is an innovative addition to our Tundra bumper lineup. The design is specifically engineered to match the factory body-styling of the truck while enhancing protection and durability with a superior bumper system that's full of features. This tough bumper may not have the noticeable grill and light guards that stand out on our other models, but it's packed with the same capabilities. Hiding in this compact structure, you'll find an integrated winch mount constructed from ¼ steel, fitting a winch as large as 12,000lbs. You'll also find ultra-strong D-ring recovery points that align directly to the vehicle's frame for maximum strength in tough spots. Additionally, there is a 20" lightbar mount integrated seamlessly into the design to keep your way lit without extra hardware. This bumper requires a minimal amount of trimming to the truck's factory front end, but the two-piece design makes installation super simple with the right tools. Add an optional grill guard to improve protection even more. With a front jumper setup like this, you can feel confident taking your Tundra offroad in any terrain, then easily blend in on the road in your neighborhood.

Requires trimming
Optional grill protection
Integrated winch mount (Fits up to a 12,000lb winch)
Winch tray is constructed with ¼ steel
Built-in, rugged recovery points
Includes mounting points for a 20" single row light bar
Follows factory lines
Two-piece design for easy install
Available with or without bull bar center grill protection
Bumper is not compatible with models that have an active front spoiler
| | |
| --- | --- |
| WEIGHT | 100 lbs |
| DIMENSIONS | 44.5 × 20 × 22 in |
| YEAR RANGE | 2022 |
| MAKE | Toyota |
| MODEL | Tundra |
| BRAND | CBI |
| CENTER GRILL PROTECTION | Center Grill Protection, Standard |
Below are the current estimated lead times CBI & Prinsu products. Please contact us if you have any questions. 🤙
Prinsu Roof Racks -

1 Week
Accessories (brackets, mounts, etc.) -

1-2 Weeks
Skid Plates -

4-6 Weeks
Bed Racks -

4-6 Weeks
Bed Bars -

1-2 Weeks
DOM Rock Sliders -

6+ Weeks
Rock Sliders -

6+ Weeks
Steel Front Bumpers -

8-10 Weeks
Aluminum Front Bumpers -

4-6 Weeks
Rear Bumpers -

10-12 Weeks
Covert Bumpers -

5+ Weeks
We do our very best to get the product out in a timely manner. The estimated date provided on your order is just that, an estimate. It is not a guarantee that the product will be shipped on that date. The estimated date is given to provide some sense of how long the build process will take.
In the best cases, the lead time can be shorter however, in other cases lead times can be longer depending on the product and the number of products we build per run. Feel free to check on your order at any time.
At CBI Offroad our line of off-road body armor and protection match out motto: "Trail Proven - Adventure Ready!"

Whatever type of adventure you pursue our off-road body armor will get you there with the style, functionality, and protection you need. CBI Offroad is a company that was founded on principles of quality craftsmanship and impeccable design for off-road vehicles. Our first bumper was built back in 1999 and was handcrafted to perfection. Today we continue this tradition with increased manufacturing technology and that same handcrafted touch as each product is manufactured by skilled fabricators and welders.

All CBI Offroad products are assembled and built in our Idaho Falls, ID facility by skilled American workers. It is our goal that each product we produce will exceed our customer's expectations in both quality and function.