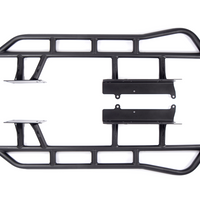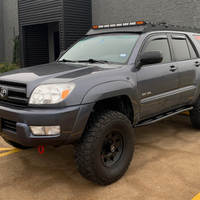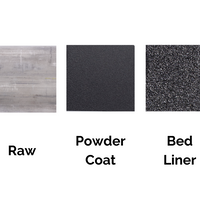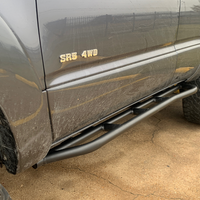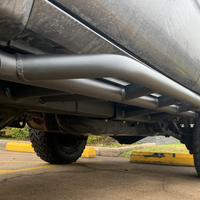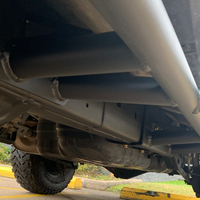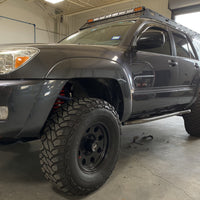 Cali Raised LED - Trail Edition Bolt on Rock Sliders Toyota 4Runner 2003-2009
Description

Videos

Lead Times
Click here for our Shipping Policy for Lead Times
Cali Raised LED is excited to present these Apex Fabworks Trail Edition bolt-on rock sliders for use with all 2003 to 2009 Toyota 4Runners. They're made from DOM 1.75" tubing to ensure they're extremely durable, protecting your vehicle no matter the terrain you cover. The sliders wall thickness is .120" thick. We offer them in three different finishes, raw, powder-coated, and bed lined, allowing you to select which best suits your needs.
These bolt-on sliders come with all the required hardware needed for the install and do not require any modifications.
Features
Easy to install (watch our installation videos for a step-by-step guide)

Comes with everything required for install

Choose between a raw finish, powder-coat, or bed lined

Choose one of our great shipping methods to get fast, safe, and low-cost shipping straight to your home

Length 64"
Note
Not compatible with X-REAS suspension components.

NOT compatible with 4Runner Limited.
YES, KDSS and NON-KDSS Compatible. 

Cancellation of a slider order will incur a 15% cancellation fee after the order is placed. This is a custom product made specifically for your vehicle and can not be changed.
Lead times below are estimates and are subject to change without notice.
At least a 7-10 day lead time on all products
Powder-coated Rock Sliders -

6-8 Weeks
Raw Rock Sliders-

4-6 Weeks
Roof Racks -

6 Weeks
Skid Plates -

3-6 Weeks
Bed Bars - 4-6 Weeks
Superior Design 

Sleek and sophisticated are the primary principles when it comes to design. When it comes to function, Cali Raised LED strives to make everything 100% bolt-on or with the fewest modifications necessary.

Premium Quality 

As disruptors, Cali Raised LED has changed the name of the game by designing and manufacturing all of our trail armor, roof, and bed racks in the USA. You never have to compromise with Cali Raised LED.

Fair Pricing

Cali Raised LED provides Economy and Premium versions to provide a solution for everyone on either side. No matter the budget, Cali Raised LED aims to keep our products affordable while never compromising on quality.