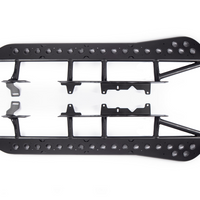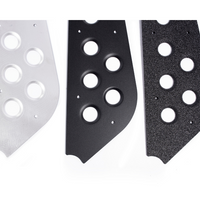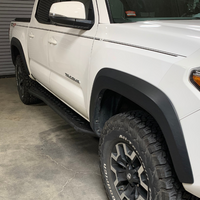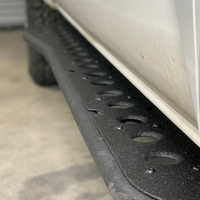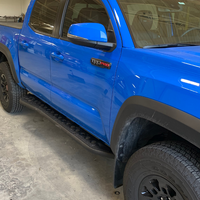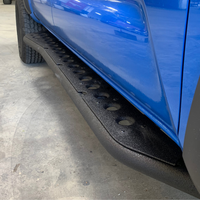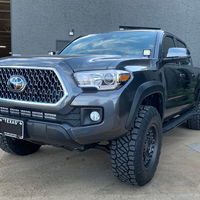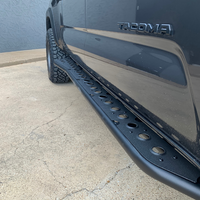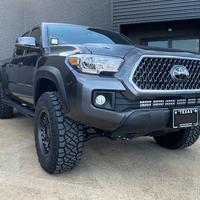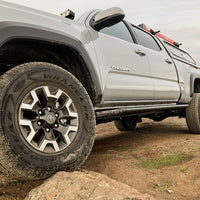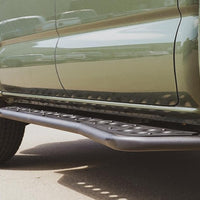 Cali Raised LED - Step Edition Rock Sliders Toyota Tacoma 2005-2021
Description

Videos

Lead Times
Click here for our Shipping Policy for Lead Times
Protect your truck with the Apex Fabworks Rock Sliders. These are a universal fit between 2nd Gen and 3rd Gen Tacomas . Made from DOM 1.75" tubing, we don't up charge you for better material or for features like kick outs. The sliders wall thickness is .120" thick. Our sliders are made the best way we know how for the best fit and protection standard, no up charge. These sliders are Bolt-On. Bolt-On sliders come with all the required hardware you need for the install and are installed with zero modification to your truck. 
Length:
DCLB - 94"
DCSB - 81"
Features
- Easy installation, watch the installation video for a step by step guide

- Degrees for added stepping location. Makes accessing the roof or getting into the vehicle easier.
- Comes with everything required for install
- Choose between a raw finish or powdercoat
Lead times below are estimates and are subject to change without notice.
At least a 7-10 day lead time on all products
Powder-coated Rock Sliders -

6-8 Weeks
Raw Rock Sliders-

4-6 Weeks
Roof Racks -

6 Weeks
Skid Plates -

3-6 Weeks
Bed Bars - 4-6 Weeks
Superior Design 

Sleek and sophisticated are the primary principles when it comes to design. When it comes to function, Cali Raised LED strives to make everything 100% bolt-on or with the fewest modifications necessary.

Premium Quality 

As disruptors, Cali Raised LED has changed the name of the game by designing and manufacturing all of our trail armor, roof, and bed racks in the USA. You never have to compromise with Cali Raised LED.

Fair Pricing

Cali Raised LED provides Economy and Premium versions to provide a solution for everyone on either side. No matter the budget, Cali Raised LED aims to keep our products affordable while never compromising on quality.