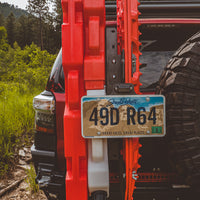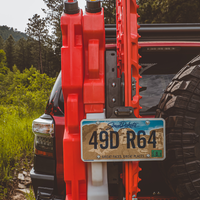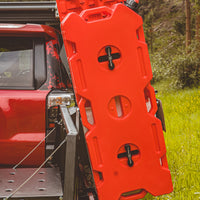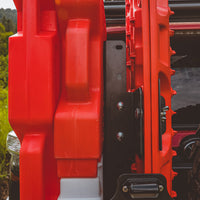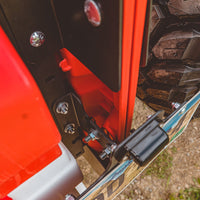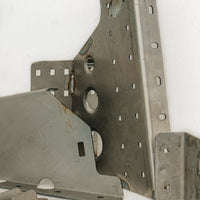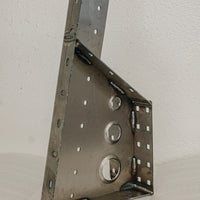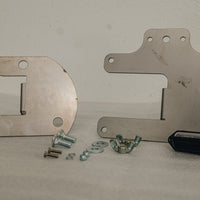 C4 - Rotopax | Maxtrax Mount
Description

C4 Lead Times
All C4 Products Ship Free
Mounting bracket and hardware to mount RotoPax and Maxtrax together in one setup.
Kit is designed to bolt onto C4 swing outs but, kit can also be mounted to other flat surfaces as long as four 3/8″ diameter holes are available to match the bolt pattern of the mount.

Holds up to 4 Maxtrax
Maxtrax brand mounting pins can be used to attach Maxtrax to our mount but they are not required. Carriage bolts with wing nuts are supplied with the kit to attach Maxtrax if needed.
Holds up to four 2 gallon fuel or water RotoPax, or up to two 4 gallon fuel or water RotoPax.
RotoPax brand Pack Mounts also required to mount RotoPax to our mounting system.
Ships bare steel, parts need to be powder coated or painted to prevent rust.
Mounts to a flat surface using six 3/8″x1″ carriage head bolts.
Optional license plate mount with light can be used to relocate the plate to a visible location so the plate is not hidden for the user's specific application.
Below are the current estimated lead times for C4 products. Please feel free to contact us if you have any questions. 🤙
Front Bumpers - 11-14 Weeks
Rear Bumpers - 15+ Weeks
Bed Racks & Fuel Tank Skids - 7+ Weeks
Accessories - 2+ Weeks
Hi Clearance Add-ons - 6-8 Weeks
Skid Plate - 15+ Weeks
Rock Sliders - 10-14 Weeks
Ladders - 14 weeks
Please note: Front Bumpers/Rear Bumpers/Rock Sliders/Skid Plates that may require freight shipment are either shipped to the nearest freight hub or a commercial address with a dock. C4 does not currently ship to residential addresses. Shipments must be picked up from freight hubs within two days of delivery or will otherwise incur additional fees.
C4 Fabrication specializes in products for your Toyota Off Road/Overland vehicle. With over 15 years experience in the off road and manufacturing industry, you can trust that C4 products will be the absolute best choice for your vehicle.

100% designed and manufactured in the USA, C4 delivers the highest quality products in the Toyota Off Road/Overland industry. Our products are designed with both function and form equally. We believe that our customers want their products to look just as good as they perform. With that in mind the design team at C4 strives to create the best balance of both.

C4 is a trusted company that has been built on a reputation of extremely high quality products that are always delivered within the advertised lead times and fit great every time.
Whether you are an avid Off Roader, Overlander or just a weekend Adventurist, C4 offers a quality product that fits your application.