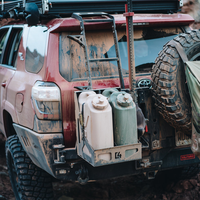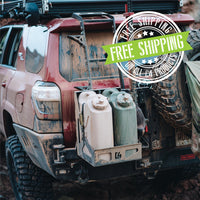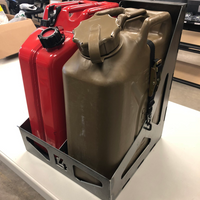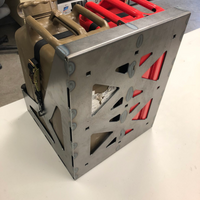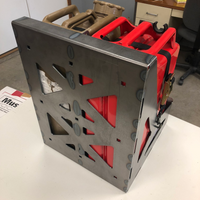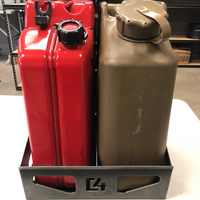 C4 - Dual Jerry Can Carrier
Description

C4 Lead Times
All C4 Products Ship Free
Made from 14 and 11 gauge steel.
Weighs 21lbs.
Uses strap and tensioning buckle system to hold cans tightly into carrier and allow various brands and styles of cans to easily fit and stay tightly held in place. 
Designed with multiple mounting hole locations.
19″ tall, 14.25″ wide, 15.125″ deep.
Can be bolted onto flat surfaces at the bottom or back of carrier.
Mounting holes are square cut to use carriage head bolts from inside to provide a smooth surface for the jerry cans to sit.
Sold with mounting hardware, straps and buckles.
Ships Bare Steel
Carrier will fit various sizes of cans, NATO, Midwest and Sceptor will all fit.
Cannot be attached to the C4 summit hatch ladder for the 5th gen 4runner. 
Below are the current estimated lead times for C4 products. Please feel free to contact us if you have any questions. 🤙
Front Bumpers - 11-14 Weeks
Rear Bumpers - 15+ Weeks
Bed Racks & Fuel Tank Skids - 7+ Weeks
Accessories - 2+ Weeks
Hi Clearance Add-ons - 6-8 Weeks
Skid Plate - 15+ Weeks
Rock Sliders - 10-14 Weeks
Ladders - 14 weeks
Please note: Front Bumpers/Rear Bumpers/Rock Sliders/Skid Plates that may require freight shipment are either shipped to the nearest freight hub or a commercial address with a dock. C4 does not currently ship to residential addresses. Shipments must be picked up from freight hubs within two days of delivery or will otherwise incur additional fees.
C4 Fabrication specializes in products for your Toyota Off Road/Overland vehicle. With over 15 years experience in the off road and manufacturing industry, you can trust that C4 products will be the absolute best choice for your vehicle.

100% designed and manufactured in the USA, C4 delivers the highest quality products in the Toyota Off Road/Overland industry. Our products are designed with both function and form equally. We believe that our customers want their products to look just as good as they perform. With that in mind the design team at C4 strives to create the best balance of both.

C4 is a trusted company that has been built on a reputation of extremely high quality products that are always delivered within the advertised lead times and fit great every time.
Whether you are an avid Off Roader, Overlander or just a weekend Adventurist, C4 offers a quality product that fits your application.