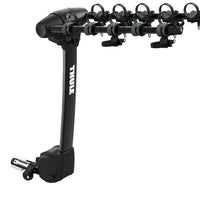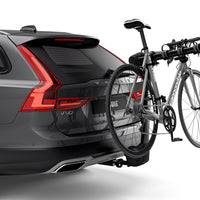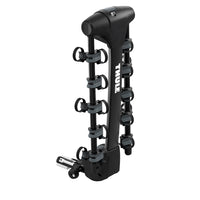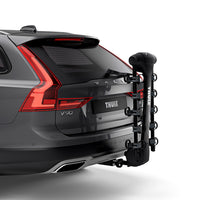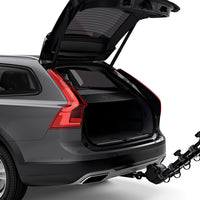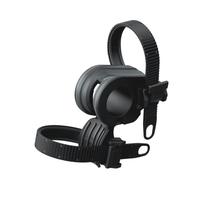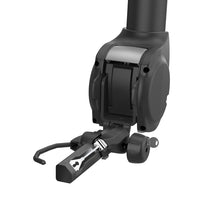 Thule - Apex XT 5-bike Hitch Bike Rack | Black
Premium hanging hitch bike rack providing superior bike protection and multiple size options to fit the needs of two people or an entire family.
Bike Rack - Receiver Hitch Mount; Apex; Fits 1-1/4 Inch and 2 Inch Receivers; 5 Bike Capacity; Tiltable; Frame Clamp; With Locks; Foldable
No Of Bikes: 5 Bikes
Receiver Mount Size: 1-1/4 Inch/ 2 Inch
Tiltable: Tilts Down For Vehicle Access
Hold Type: Bike Frame Rests On Arms With Cradles And Straps
Foldable: Yes
Color/ Finish: Black
With Lock: Yes
Capacity: 150 Pound
Features
Bikes Are Safe And Secure During Transport Thanks To 5.5 Inch Of Spacing Between Each Bike

Quickly Attach Bikes And Easily Secure Them To The Rack Using The Ratcheting Cradle Strap

Compact Cradle Design Accommodates Wide Variety Of Bike Sizes Or Frame Styles

Easily Fold Down Bike Arms When Rack Is Not In Use

Convenient Access To The Rear Of The Vehicle Using The Hitch Switch Lever To Tilt The Rack Down

Easy To Carry And Handle, Thanks To Integrated Grab Handle

Easily Transfers Between 1.25 Inch And 2 Inch Hitch Receivers

Superior Bike Stability And Fit With Integrated Anti-Sway That Prevent Bike To Bike Contact And 'disappears' When Not Needed

Limited Lifetime Warranty
This is Thule
Whether it's exploring the spectacular nature of the great outdoors or traveling the world with family and friends, we all have a passion for enjoying an active life.
At Thule, we share your desire to spend more time enjoying our passions – which means less time worrying about how to bring all the stuff we need. For more than 75 years, Thule has been creating solutions to simplify life's adventures. Our focus has been totally focused on developing smart, stylish products that are environmentally sound, high quality, safe, and easy to use. All so you can bring the things you care most about.
Whatever your passion, whatever your pursuit.
Wherever you ́re going, whatever you ́re bringing.
With Thule, you're free to live your active life to the full.